Published Date: February 25, 2021
Last Updated on June 22, 2023 by Camper Front
The majority of pop-up campers do not have an in-house functional bathroom. Even if you manage to find one, it may not have other competitive features needed in a luxury pop-up camper.
Most of the options that come with a pop-up camper have outdoor bathrooms. As camper lovers, we understand the difficult process you may go through to find the best pop-up campers with a bathroom; hence, we have made it easier by picking 5 of the best.
Why You Should Go For A Pop-Up Camper
So you may be asking, why go for a pop-up camper?
There are many advantages pop-ups have to offer.
Pop-up campers are extremely lightweight, not because they have fewer features, but because they are made from lightweight materials.
They are easier to tow. This is definitely because of their lightweight. You would not have to worry about the capacity of your car or get a new SUV to pull your new camper.
Pop-up campers are more affordable than the usual RVs. Hence if you are looking for an entry-level camper on a low budget, these are the best options.
In as much as we have these advantages, it doesn't leave us without a con. These campers are not the best for winter. Well, not many people go camping during winter.
But if you are looking for an RV camper that you can use in any weather, you should consider going for one that is adapted for winter survival.
Are you still certain that you want a pop-up camper despite this con highlighted? Let us quickly look at the best in the market with the best functional bathroom all en suite.
Types Of Pop-Up Campers
1. Tent trailers
You probably may have heard about the name before. These are common camping trailers with solid bases and tent walls.
There is nothing too special about them. You would find sleeping areas, seating areas, cabinets for storage, a kitchen sink, a small fridge, a stove, and for some, a bathroom.
This would not give you advanced features but will serve the purpose.
2. Hi-Lo campers
Hi-lo campers were previously bran, but now they are a class of campers. It is a telescopic camper. It consists of an upper and a lower part that slides across each other via a telescopic hydraulic lift system.
3. High-Wall Campers
This is the usual pop-up camper that you are familiar with. it consists of a hard base, a hard wall, and a rooftop tent extension powered by a motor or hydraulic system.
They are taller, and so give room for more advanced features such as air conditioning, oven, microwave, larger fridge, and a functional indoor bathroom.
4. A-frame pop-up campers
A-frames are the best choice for enthusiasts that wants more protection than tent siding. The majority of them can be broken down into small packages that would be easy to tow, or built-up when on location to give more headspace.
A-Frame's siding is mostly made from fiberglass laminate.
Best Pop Up Campers With Bathroom
Without wasting much of your time, here are the best pop-up campers with bathrooms in the market today:
1. Forest River Rockwood HW296
Tent roofs tend to trap and retain heat. So it can be inconvenient camping in a pop-up camper during the hot summer. The best option to deal with this apart from using an air conditioning system is a high-roof design.
Rookwood got it right here. They boast of their high roof design, well-labeled on their product.
Talking about the amenities, this camper gives you a large refrigerator, air conditioning, oven, microwave, and other features that you would not find in a regular pop-up travel trailer.
All materials are durable and strong. Don't just take us for our word, here is why. The vinyl tent material repels water while keeping heat locked in. This camper has a 10-year warranty on the wheel and axle.
Did we say there is a functional bathroom with solid walls? Yes! They have got a standard bathroom. You wouldn't have to take a shower outside. It is super lightweight at just 3700 lbs.
Pros
Awesome stamina and rigidity
Comes with a double wheel and axle
Super lightweight
Made from quality materials
The high roof keeps heat away
Heated mattresses
Cons
There are no sufficient indoor storage spaces
2. Coachmen Clipper Sport 1285 SST
Are you looking for a pop-up camper for your family? Then search no further because not only will this camper accommodate your family, but it will also provide all the amenities and features that you will need to survive out of civilization
Some of the features include a stereo with indoor and outdoor speakers, a functional bathroom and toilet, 2 heated mattresses at both ends (King and queen's size beds), and a kitchen, dining, and air conditioning, just to mention a few.
Another thing we love is the storage space. There is a large external storage box that slides out giving you better access.
Despite all these features, it still manages to weigh 2,840 lbs.
What's more? Coachmen Clipper will conveniently sleep 7 persons. Do you see why it is perfect for your family?
Pros
This camper is extremely lightweight
Can sleep up to 7 persons
Sufficient storage space
Heated mattresses
Features the best amenities
Cons
The bathroom comes with shower curtains which increase the humidity of the space if not properly dried
3. Somerset Utah Pop Up Camper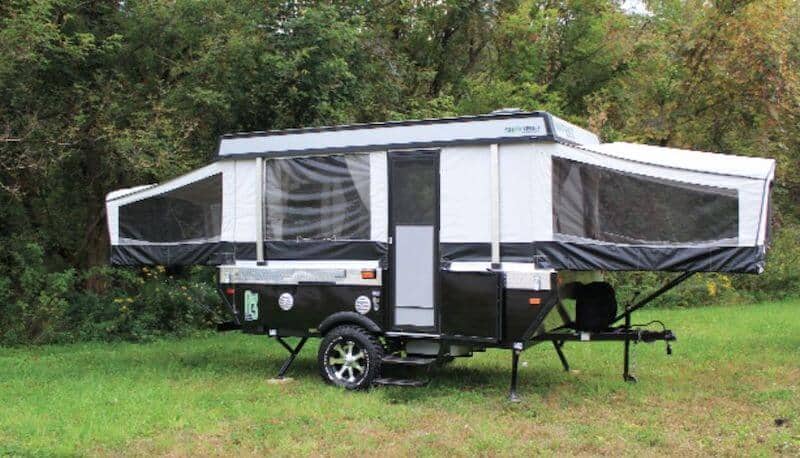 When buying the Utah pop-up camper, you should know that each year, there is a slight modification of the floor plan. So ensure you check and compare models and pick the best that suits you.
The bathroom is not just your usual one. One awesome feature of the bathroom is the inclusion of a recirculating toilet. This means that it breaks down, deodorizes, and makes for more efficient storage – a rare feature that most competitors lack.
Somerset Utah popup camper has a large capacity, capable of sleeping at least 8 persons. You can even maximize more space using the single slide-out section.
Though this camper looks large and bulky, the weight is just 2,760 pounds. A mid-size SUV or even a small car can tow this camper.
Pros
Lightweight and can easily be towed
Re-circulating toilet for more efficient storage
A single slide-out section helps to maximize the interior living space
Can sleep up to 8 persons
Cons
The bathroom is supplied by a 20-gallon freshwater tank. This seems too small compared to others
4. Aliner LXE A-Frame Camper With Shower
Aliner A-frame pop-up camper does not offer a large capacity, but it boasts of its luxurious interior with a functional bathroom and kitchen. This makes this camper suitable for couples. You are sure to get the best headspace when fully set up.
The large exterior storage space ensures that you come with all your camping gear for the fun.
One of the reasons campers opt for pop-up RVs is that they want lots of windows, lights, and ventilation. The design of this camper ensures that all these are achieved.
The amenities included in this camper include a fridge, air conditioner, burners, and an oven.
The bathroom and toilet are small but serve the purpose.
Aliner LXE is lightweight, weighing only 1795 lbs, and sleeps 2 persons.
Pros
Sufficient headspace with lots of windows
Contains all amenities for survival
Convertible sofa bed conserves space
Sufficient interior and exterior storage space
Cons
The bathroom is too close to the cooking area which isn't hygienic enough
Sleeps just 2 persons
The bed is not too comfortable
5. Jayco Jay Sport 12SC Camping Trailer
Jayco Jay Sport 12SC Camping Trailer is our last pick for the best pop-up campers with a bathroom and toilet.
One thing lovable about this RV is the spacious interior. Two opposite large king-size beds will sleep 6 persons. Also, there is a dinette and two convertible sofa beds. This camper is a great option for a large family.
Each bed is enclosed, with covered curtains for privacy. The highest number of persons that this camper would accommodate is 8 while considering the convertible sofa beds.
Now talking about the bathroom, Jayco – Jay Sport 12SC features a cassette toilet and a 5-gallon removable black water storage tank.
There is also a portable shower with a curtain for privacy. The shower is supported by a 28.2-gallon freshwater storage tank. We think this capacity is great for the size of the camper.
Jayco – Jay Sport 12SC has got all the basic amenities that you and your family will need to have a fulfilled camping experience.
Pros
Retractable awning with screened sides
Accommodates and sleeps more persons
2-gallon fresh water storage tank keeps the shower running for a long time
The beds are comfortable
Cons
Toilet and shower are too close to the bed
Factors To Consider When Buying A Pop-Up Camper With A Bathroom
It isn't enough to boast about having a pop-up camper with an included bathroom and toilet. It must be convenient and able to serve the purpose.
So if you are going to buy one that will be worth your money, you will want to consider the following factors as regards the bathroom and toilet.
1. Position of the toilet
We understand that campers are usually small, so there may be a challenge in designing and positioning the toilet in the right position.
Typically, a bathroom and toilet would be better when positioned close to a door or window.
For the sake of convenience, campers with the toilet close to the bed or kitchen wouldn't be in the best position.
2. A Traditional Flushing Toilet
When going for an RV with a built-in bathroom and toilet, it is always better to go for one with a flushing feature.
When this is in place, it ensures that the space stays clean and out of odor. However, the challenge with this option is that for this feature to be in place, the camper would need to carry a freshwater tank and a black water tank.
These add more weight to the overall weight of the camper, thus having to tow a heavier camper.
However, if you do not, want the inconvenience of towing heavy water tanks, then campers with a cassette toilet would be the case.
What Can Be Done About Odors In A Popup Camper Toilet?
No matter the type of bathroom and toilet system used in your camper, chances are that you may still get some odor after a while, thus making the closure uncomfortable.
For a traditional flushing toilet, the opening and closing of the valve when flushing can cause some splashes of bad water from the black water tank into the bathroom. This is bound to occur when the black water approaches its capacity.
You should ensure to empty the tank or purge and sanitize your black water tank as the case may be.
For cassette toilets, this case is rear because the system is designed to sanitize and deodorize in the black water tank itself. But of course, deodorizing is worthless when the tank is filled.
The same applies to recirculating toilets. When the odor starts to get noticed, it is a sign that you need to add more chemical solutions, otherwise, the storage tank needs to be dumped off.
Whatever system of bathroom you are using; always ensure that you find the RV dump site on arrival so you do not get cut up in the situation.
Recommended Readings:
Conclusion
There are more popup campers to consider outside this list. But you want to be sure you are getting something you will be proud of especially the ones with bathroom options.
It is important to know what is involved when getting a pop-up camper with an indoor bathroom and toilet system. It requires optimum attention and care to keep the closure hygienic and comfortable.
We hope that you are able to find the best popup camper with a bathroom using our guide and recommendations. Always remember that the idea is to stay light and get the comfort of doing everything indoors.