Published Date: July 4, 2022
Last Updated on May 22, 2023 by Camper Front
It might not surprise many, but you should know that staying in campers that are not leveled using RV leveling devices is risky and awkward. This is particularly common in unleveled terrains. In addition, your RV requires leveling to ensure that appliances within it continue serving you efficiently.
For instance, your refrigerator needs proper alignment for optimal functionality. This is because the fridge's evaporator coils are more inclined to use liquified ammonia, making it essential for your fridge to remain properly balanced. The proper balance facilitates effective cooling. Therefore, this, together with your comfort as an RV driver or passenger, creates the need to level RVs and carriers properly. Using an ideal RV leveler block guarantees that your vehicle, appliances, and occupants have the right balance. Another advantage is that levelers, unlike hydraulic jacks, are so much cheaper. 
Picking the best RV leveler is not easy, especially when you don't know where to begin. Therefore, in this article, we will equip you with important information on the best RV leveling blocks and ramps available on the market.
RV Leveling Blocks Reviews
Pros:
Anti-skid design

UV-stabilized components

10leveling blocks in a single package

Zippered storage bag included

Rigid resin design

Safe and easy leveling in low-light conditions
Cons:
Not ideal for rugged terrain

May tend to sink in soft terrain
We earn a commission if you make a purchase, at no additional cost to you.
Unlike other leveling options that only provide one, two, or three packaged leveler blocks, the Camco Fasten, with its versatile design, does more by presenting you with a set containing 10 blocks. The blocks interlock and have a stackable design to realize your desired height. The tough resin construction on all levels can bear the weight of a regular RV. Additionally, there is a storage bag that is zippered and has a handle in the package. This facilitates convenient storage – an excellent touch from its designers.
Furthermore, the design of the levers promotes outstanding versatility. Forming unique links enables leveling of single and dual tires, hydraulic leveling jacks, tongue jacks, tandem wheels, and fifth-wheel jacks.
Review
You should have better accessories when out camping. Therefore, additional accessories such as superior performance leveling blocks are a necessity. Luckily, the Camco camper leveling blocks are arguably the best lightweight products that are durable, user-friendly, and have an efficient design.
The leveling tool's innovative design prevents your RV from slipping as you level it, allowing you to enjoy effortless functionality. No other competitor with interlocking blocks comes close to the Camco leveling blocks, primarily because of their user-friendliness, anti-sinking capabilities, and durable design.
These are probably the best RV leveling blocks you will come across and will remain useful for several years. The package presents you with 10  leveling blocks, each with dimensions of 8.5 inches by 8.5 inches by 1 inch.
Among the most outstanding aspects of the Camco is the feature that lets you adjust it to match your height of choice with facile and safety leveling. In addition, they work well with all types of wheels and jacks, making your life easier as you camp through accurate and efficient leveling utilizing a variety of accessories.
One extra exciting feature goes without saying – as you use the leveling function, you will realize they have some resistance against sinking if placed on soft grounds. This is a feature to be grateful for as the manufacturers designed them using a sturdy heavy-duty bottom. They also resist environmental effects since they have a robust and durable build.
Pros:
Durable and lightweight

Sturdy design

Offers optimal support and balance to various vehicles

Includes a storage nylon bag
Cons:
Blocks tend to dent or break if placed on stones

Regular denting problems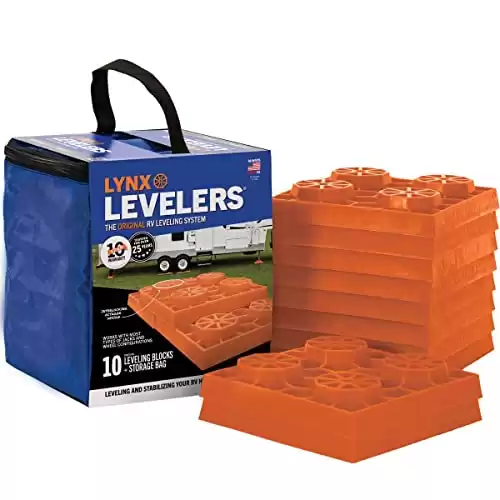 We earn a commission if you make a purchase, at no additional cost to you.
From the first look, the Tri-Lynx leveling blocks appear fragile due to their lightweight design. However, this should not deceive you, as the devices can hold up to 40,000 pounds in carrier weight capacity. Every RV level block of this 10-piece set weighs less than one pound. Therefore, they could as well be the lightest available levelers. In addition, the lightweight design makes them easy to store and carry. These devices also come with nylon bags for neat stowing.
Additionally, they have a modular design that brings optimal support and balance to various vehicles. Arrange them in a pyramid fashion and watch the tools deliver top-notch alignment to your travel trailer and RV.
Review
You previously had to dig deep to find the best durable and multifunctional leveling blocks. However, thanks to the Tri-Lynx levelers, the search can now end. The device will provide you with an outstanding performance to leave you in awe. The leveling blocks are user-friendly and are guaranteed to make your campsite challenges easier with accurate and smoother lifting.
Furthermore, their functionality as base materials is helpful as you use various stabilizers. Therefore, buying the blocks will be your wisest investment decision. The leveling blocks have realized global admiration and recognition thanks to their simplified utilization, stability, and ability to withstand the enormous weight.
The Tri Lynx is among the best RV levelers capable of leveling your RV with utmost efficiency. This is thanks to their ability to lift in a variety of configurations. Additionally, you will appreciate learning that it will never fail you regardless of the weight of the travel trailer and RV.
More particularly, these durable, multifunctional, and lightweight blocks can withstand up to 40,000 pounds. In addition, much thanks to the block's manufacturers, a smart RV leveler modular design was adopted to enhance their fitting potential and stability. And if you are considering using a different stabilizing tool, Tri Lynx helps you by serving as a base for support.
Another outstanding aspect of the leveling blocks is their handiness with all axle, wheel, and jack types. Therefore, you will no longer have to worry about these blocks' dual or singular wheels.
They are available in the 8-1/2 inch by 8-1/2 inch with 1-1/2 inches and offer you a one-inch lift incrementally. The package includes a nylon bag for storage which is helpful in keeping them following use.
Through years of positive feedback from satisfied friends and families, we know what most people wish for in an appropriate and convenient leveler. And this is precisely what you get with the Goldpar RV Leveler – a simple leveler that gets all your wishes for a leveler right. The leveler is an ideal travel companion. As you head out to camp, it can be instrumental in improving your vehicle's stability quickly and reducing parking problems. Additionally, it is excellent for carrying cases, has an anti-slip design, and is wireless.
The Goldpar RV Leveling Blocks are also affordable and available in a special bright red-colored design. Furthermore, it only works in a low position. The levelers are designed from high-quality nylon polymer that facilitates mechanical load-bearing. These can handle extreme weather conditions and extended direct sunlight without negatively affecting their service life.
Review
The Goldpar RV is easy to use, thanks to its included Camper Levelling Kit to help you level the RV in a matter of minutes. You drive it to a flat surface before jamming it in position. However, ensure you avoid pressing the wheel against the wheel chocks.
If your camper is up to 36,000 pounds and its tires are up to 32 inches in diameter, the levelers will serve you well. However, it is not necessary for use on either side. You can use the Goldpar RV camper leveler without necessitating any modifications.
This is because it packs camping accessories and has a pair of blocks and two curved straighteners. Both of these add a non-slip design that enhances friction. The non-slip rubber mat, on the other hand, prevents the sliding of the straighteners.
Since the Goldpar RV comes with a bag for storage, it makes the carriage easy and convenient. As you head out to camp, it can come in handy, helping you enhance the vehicle's stability in the shortest time possible. No longer will you need to wander back and forth looking for a level parking spot.
Any buyer will appreciate the levelers with an instruction sheet inside their storage bag. In addition, you can use the levelers on your camping trip, which will still serve well after cutting. You could also exploit the levelers to be efficient to a maximum of 30,000 pounds and 32-inch wide tires.
Compared to other levelers of the same category, RVMATE Camper has an impressive design. Not only is it super thin, but it also works excellently. About two decades ago, the organization behind RVMATE began creating high-quality material RV leveling tools. Since then, they have tried to bring about innovation within the field.
The organization also prides itself on producing affordable quality and compact gadgets. For example, this RVMATE leveling block comes together with a storage bag to facilitate the convenient organizing and carrying of leveling blocks following their use. 
Review
This RV Mate Camper leveler kit is among the best currently available. With the package, you get a pair of curved levelers and wheel chocks, a pair of rubber mats, along with jack leveling pads, guaranteeing that anything you might need is at your disposal. Included with it is a valuable storage bag that can fit into the storage compartment of your RV or behind your truck.
The leveler kit is simple and lets you level the camper or RV in only a few minutes. All you must do is establish the required height and drive the RV or travel trailer onto the leveler. Then, you will only need to stop at the correct height and position your wheel chocks below the leveler.
The leveling kit is designed using highly dense polyethylene and lasts longer. It is also capable of performing under stress. The kit can withstand RVs, campers, travel trailers, and fifth wheels weighing up to 35,000 pounds with a 32-inch maximum tire diameter.
These leveling blocks are an outstanding choice for an intuitive, affordable, and durable RV leveling block set, and are ideal for various applications. Every set of 10 blocks has dimensions of 8.5 by 8.5 inches and is designed of reliable, top-notch PP material.
The RV leveling block set has a simple-to-use interlocking construction that allows convenient transportation and storage by twisting together. In addition, it comes together with a helpful storage bag to keep the pieces protected and well-organized whenever not in use.
Pros:
Easy and fast to use

Heavy-duty design

Non-slip construction
Cons:
Instructions are not clear

It does not offer a significant amount of height
We earn a commission if you make a purchase, at no additional cost to you.
If your greatest wish is to get a reliable block, look no further than the Rophor Camper Leveler. Buying this leveler is an investment you will be thankful you made. The leveling block has fantastic efficiency, a heavy-duty design, and sound construction.
All of the Rophor products are rigorously tested to ensure that every device getting to the end user works perfectly. The RV leveler has a 15″ to 16″ radius, making it the perfect curve. This block is straightforward, dirt-resistant, and features an anti-slip sturdy construction. Most significantly, the Rophor leveling block is designed using a high-quality polymer. The leveler is made to last for a long time.
Most customers realize that the block snuggly fits, and generally, the unit looks impressive. Additionally, the block perfectly fits between the tires/axle without any issue.
Review
with this leveler, you can achieve precise leveling without having to undergo the struggle of piling wood or plastic blocks beneath the tires and guessing every time. You can quickly level your RV or travel trailer to any increment between 1/2 an inch and 4 inches in under five minutes. Get to level your RV, trailer, or camper on the first attempt by efficiently driving on till level, chock, and you will be done.
Designed using a superior-performance polymer, the Rophor Camper is constructed to last a lifetime. The camper lever is effective with all trailers weighing up to 35,000 pounds. The tires should be up to 32 inches in diameter. The blocks are not compressed or break under the trailer weight, as with levelers made using PP or HDPE. This is essential to guarantee security.
The blocks should work perfectly for tires with a spacing of about 2 to 3 inches apart and a diameter not larger than 32 inches. You might need to cut a single leveler to a reasonable length for other dual-axle RVs or trailers. This will vary with the distance between tires. You can comfortably cut up to 4 inches of the leveler off without any negative effects.
Rophor has developed a customized rubber grip mat to help prevent the leveler from sliding as you back your camper tire onto your leveler. Ensure to hold the position of the choke as you back the camper.
The manufacturer, Rophor, is a specialist in the production of a variety of RV accessories. All their products undergo rigorous testing to ensure that all the products getting to the end user are perfectly working. They do not compromise the quality for profits; to back this, you are offered three years of worry-free maintenance.
Final Verdict
Are you a handy person who appreciates accomplishing tasks on your own? Then homemade leveling blocks are just for you. However, it would help if you remembered to put safety first. If you cannot ascertain whether the blocks are sufficiently strong to hold the RV, ensure you go for some of the best professionally made leveling blocks. By getting the best RV leveler ramps or blocks, you will realize they are worth every penny you use on them.
Uneven surfaces or RVs are uncomfortable to live in and can, in extreme situations, cause damage to your vehicle and its interior. These easy-to-use and highly portable leveling blocks allow you to adjust your RV height to level it out for added convenience and comfort. The simple design, affordable, portable, and excellent leveling block set is a must-have if you are an RV enthusiast.