Published Date: April 5, 2023
Last Updated on June 20, 2023 by Camper Front
Having the right travel trailer tires is integral to making journeys across the state or even the country. These tires are bigger and stronger than the average automobile tires that you find at the local shop.
What makes trailer tires unique? They have a higher ply rating, are crafted with robust sidewalls, and feature exceptional tread designs.
The best trailer tires are created to last, no matter where you go and how much driving you do. They're created to offer great driving on any kind of road no matter what the weather is like.
Unlike typical radial tires, trailer tires don't transmit and steer power from the engine of the vehicle. They also do not swerve. These tires are available in many specifications and sizes.
You'll want to check out the manual for your trailer before moving forward with new trailer tires.
Without the right tires on your fifth wheel, travel trailer, or motorhome, you won't make it far. The stresses and weight of an RV impact the tires more than in a car or truck. This leads to dangerous accidents in the case of a blowout.
Rather than risking serious issues, this guide will help you choose the top travel trailer tires for your RV.
We'll talk about choosing the right type and size of tires, and share some of the best radial tires to keep your travel trailer safe on the road no matter where you go.
Whether you own a Class A motorhome, a pop-up camper, or a teardrop model, you want to have the best trailer tires. We'll make sure you know how to select them.
The 8 Best Trailer Tires Available Today
For our list of tire rankings, we've chosen only tires with consistently great rankings on performance. Depending on the RV tire, it might be better for a fifth wheel or a travel trailer. Make sure to double-check the specifics when making a choice.
Pros:
High quality and performance.

Versatile load capacity.

Stability and safety.
Cons:
Higher cost.

Inspection required.

Limited availability.
We earn a commission if you make a purchase, at no additional cost to you.
We place these Goodyear tires at the top of our list – and for a good reason. The G750 is a special trailer tire designed for use with large or medium Class A and Class C motorhomes. These tires have a load capacity of 4,540 lbs. and are known for their great stability and impressive load ratings.
As one of the best trailer tires available, these provide extra protection against harsh weather and grimy roads. They are known for having an exceptional grip on wet roads and are considered a top trailer tire for safe travel with friends and family members.
This trailer tire is very durable with excellent traction. It includes an advanced tread design for better tracking and wear. The tires are also great for use at high speeds.
However, these tires can be more expensive than others on our list. You will also want to inspect the data before purchasing at tire dealers. This ensures you don't get old stock.
Pros:
Versatile load range.

Heat reduction design.

Longevity and water deflection.
Cons:
Sidewall bulge issues.

Quicker wear under heavy loads.

Noisy ride.
We earn a commission if you make a purchase, at no additional cost to you.
These radial tires from Trailer King have a load range from 2,540 to 3,520, making them suitable for many situations. They are best used for light travel trailers and come with an interesting shoulder design to reduce heat. This makes it a radial tire that works well on highways at high speeds.
The overlay of the radial trailer tires is made of nylon to offer longevity and strength. The tread has a deep center groove to assist with water deflection and tracking.
In addition, this tire manufacturer has a nationwide limited warranty. This makes it a radial trailer tire that works well for drivers who like to take off on long road trips.
Some of the largest benefits of choosing this radial trailer tire include a long lifespan, national warranty coverage, and a stable ride.
However, some report issues with sidewall bulges. In addition, the tires may wear down more quickly when a heavy load is present.
Pros:
Rugged durability.

Aggressive tread pattern and Kevlar ply.

Long-lasting mileage.
Cons:
Limited size availability.

Performance on packed snow.

Higher cost.
We earn a commission if you make a purchase, at no additional cost to you.
Are you looking for an off-grid RV tire for camping and more? You should take a look at the Goodyear Wrangler Silent Armor. It's a bit more expensive than some RV tires but worth the money when you want seriously rugged tires for up to 50,000 miles of use.
That isn't the only reason to check out these trailer tires. They also have an aggressive tread pattern and a Kevlar ply. These combine to ensure you make it through mud and rocks when off the road to reach your favorite outdoor destinations.
When you purchase this durable tire, you can expect a deep tread pattern for great traction off the road. They also promise stable highway tracking and a quiet and smooth ride. The Kevlar layer provides excellent tread wear and the shape offers rim protection.
On the other hand, these tires are available only in a few sizes. They also tend to do worse on packed snow than on soft snow.
Pros:
Wide load range.

Cool tread design for heat reduction.

Puncture resistance and smooth performance.
Cons:
Tire age concerns.

Limited information on other features.

Lack of pricing comparison.
We earn a commission if you make a purchase, at no additional cost to you.
Next up on our list of best tires is the Carlisle Radial Trail HD. They offer a load range of 1,120 to 3,960 and are a favorite of many individuals and families who go on RV trips across the state or even further.
The tread design on these tires ensures they stay cool even when driving for several hours. This cuts down on potential heat damage which can lead to a tire blowout.
Beyond that, these tires are resistant to punctures. They have a shape that easily flows over the road in a smooth way without much friction. This can help with fuel economy.
The best features of these trailer tires are the even wear, tracking, and performance. They run quietly and provide great traction even on wet roads. They also tend to be more affordable than other trailer tires.
The main thing to watch out for is the age of the tire. Some tire dealers will say they're installing new tires only for the customer to find out that they're a year old or more.
Pros:
High load capacity and designed for travel trailers and fifth wheels.

Stable ribs and shallow tread pattern for toughness and heat dissipation on highways.

Unique rubber compounds, edge sipes, and lateral grooves for excellent handling and safety in various weather conditions.
Cons:
Higher cost compared to other trailer tires.

Limited sizes available and require a pressure tire valve and high-load wheel.

Higher PSI requirement for optimal performance.
We earn a commission if you make a purchase, at no additional cost to you.
The Unisteel G614 RST has a load capacity of 3,900 and is qualified as light truck tires. It's a great tire for any size of a travel trailer or fifth wheel, as they were made specifically for that purpose.
These trailer tires have very stable ribs and sport a shallow tread pattern to be tough but capable of shedding heat to avoid damage while traveling on highways.
Other features that make these a contender for best trailer tires include unique rubber compounds, edge sipes, and lateral grooves. These work together to create great handling so you feel safe moving your trailer, no matter the weather outside.
The features that make this trailer tire stand out are the ability to run at high speeds, the exceptional tread design for tracking and wear, and the amazing traction and durability available.
However, these trailer tires can be quite expensive. They also come in limited sizes and require a pressure tire valve and a high-load wheel. They also need a higher PSI than many tires to get optimal performance.
Pros:
Suitable for all sizes of fifth wheels and travel trailers.

Durawall technology provides extra protection against wear, scuffs, and punctures.

Deeper tread design with a decoupling groove for longer tread life and reduced heat at high speeds.
Cons:
Noisier than average.

Less-than-perfect traction on snowy surfaces.

No mention of wet traction or specific features for inclement weather conditions.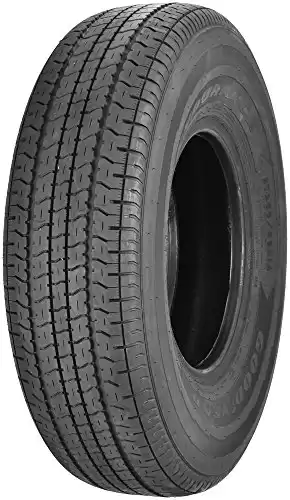 We earn a commission if you make a purchase, at no additional cost to you.
The Endurance All-Season has a design that works well for fifth wheels and travel trailers of any and all sizes. They feature Durawall technology which gives you extra protection from wear, scuffs, and punctures.
The tread design on this trailer tire is deeper and includes a decoupling groove for longer tread life. It helps reduce heat on the tires when traveling at high speeds. The tires have a speed rating of 80 MPH. They are also fully compatible with tire pressure monitoring systems.
When considering these tires, they have a lot of perks for those towing trailers. For instance, they have great stability and highway tracking. They have an optimized tread for braking abilities and are durable with a tread that stays cool at speed.
However, these tires have been known to be noisier than average and can have less-than-perfect traction on snowy surfaces.
Pros:
Wide load range suitable for RVs.

Excellent performance in all terrain and weather conditions.

Deep and thick treads provide superior water displacement and traction, ensuring stability on various surfaces.
Cons:
Not ideal for snowy conditions.

Limited customer complaints.

No specific mention of wet traction or other inclement weather performance features.
We earn a commission if you make a purchase, at no additional cost to you.
The Bridgestone Duravis trailer tires have a load range from 2,680 to 3,415. They are one of the best tires for RV lovers who want to spend time at both modern RV parks and at more rustic outdoor locations.
These tires are known for handling all terrain and weather conditions extremely well.
The deep and thick treads offer great water displacement and traction. This ensures your wheels remain firmly against the ground at all times.
These truck tires are created using durable rubber, spiral-wound nylon, and twin steel belts. This helps them stand strong even under rough use to make them last longer than typical car tires.
The main perk of this trailer tire comes down to its great highway and off-road performance. It's a very versatile tire. It has great highway tracking and traction and offers even tread wear.
There are not many complaints from customers who purchase these RV tires. The main thing to know is that the tires may not do well in snow.
Pros:
High quality and performance.

Versatile load capacity.

Stability and safety.
Cons:
Higher cost.

Inspection required.

Limited availability.
We earn a commission if you make a purchase, at no additional cost to you.
One of the things that set the Maxxis M8008 ST Radial tires apart is their load range. It spans from 1,760 to 4,122, which is a huge number that accommodates all sorts of trailers and fifth wheels.
The tires include steel belts with full nylon caps for extra longevity and strength. Because of that, they work well for fifth-wheel and travel trailer applications.
The tread design of this tire is made to cut down on friction. This helps to increase gas mileage when you're out there taking a long journey with your travel trailer.
These RV trailer tires stay straight and smooth when towing due to the shock they absorb. It can make it feel as if you're hauling nothing at all. The dual-cord body casing means it can handle large loads, while the tread pattern keeps water away for no risk of hydroplaning.
Three things really stand out with these trailer tires. First is the high-quality double steel belt construction. Second is the impressive shock absorption. Last is the distinct tread pattern that keeps the trailer moving even and smoothly.
The main thing to watch for with this tire is the load rating as it doesn't go as high as some trailer tires do.
Choosing the Absolute Best Trailer Tires
It's possible to throw any old pair of tires on an RV and get through a trip (or even a few). However, car tires and similar items are going to give up much quicker than tires made for trailers. Depending on the load, it can be dangerous to drive on tires not made with RV weight ratings.
Nobody wants to deal with a disastrous accident like a tire blowout. It can put you and all of your passengers in danger, not to mention creating major damage to your trailer. This makes it essential to know how to choose the right trailer tires and how often to switch them out.
What Are ST, LT, and P Tires?
One of the first things to look at when choosing RV tiers is the rating. You need to be sure it's appropriate before you think about the brand, type, and size of the tires you use for your trailer.
ST Tires
ST tires are special trailer tires. They are made to be used by recreational vehicles and travel and cargo trailers. ST tires meet certain safety guidelines set by manufacturers. In addition, ST tires are made to handle a heavy load as well as the stresses associated with campsite parking conditions and RV travel.
If you own a Class A, Class B, or Class C motorhome, you need ST tires. However, even those with lightweight pop-up campers and travel trailers should consider using these tires. They will provide the best wear and performance possible.
LT Tires
LT tires are for light trucks. These tires are designed to be used for smaller pickup trucks and SUVs. The LT tires are typically not designed to be used for trailers and motorhomes. It's best to choose a higher class rather than installing LT tires.
P Tires
P tires are made for passenger vehicles, which means they are used for traditional cars. They are created for use with cars like sedans and similar vehicles.
You should never use car tires on trailers. They cannot support the weight and it could lead to disaster. Always choose tires made for RVs and be sure they can handle the weight of your trailer (along with any belongings you pack inside).
Why Choose ST Tires for Trailers?
ST tires are made differently from LT and P tires. They have a number of benefits, such as the ones below:
Stiffer and thicker sidewalls help reduce punctures and sidewall flexing.
Steel cords of a larger diameter support more stress and larger loads.
The tread and shape of the tires let trailers track better and can reduce sway.
A better load range keeps inflation levels accurate for RV weight.
ST tires are stronger than others but they are not made to be used with standard vehicles. Most have a lifespan that ranges from 5,000 to 12,000 miles.
In addition, many of these trailer tires are not made for use at speeds over 65 MPH. If you often drive faster with your trailer, you'll wear out the tires and create more heat than is safe.
Knowing all this about quality tires, you need to replace them every two years if you travel thousands of miles each year. If you are on the road less, they may last from three to five years.
In addition, it's important to do routine maintenance on your trailer tires before you head out on a trip. You want to be aware of any wear early so you can replace the trailer tires as needed.
Tire Load Capacity Knowledge
Even when you break things down and choose only ST trailer tires, there are still a variety of choices. Your owner's manual will give you information about what kind of tires to choose. However, the basic rule is that the load capacity should be 20% more than the gross vehicle weight of your trailer.
Why an extra 20%? There are two different reasons to add this to your calculations.
First, many people add huge amounts of items to their trailers before going on a trip. Having a strong tire makes it less likely that a failure will occur from this extra pressure. Excess weight and improper air can create extreme friction that causes a trailer tire to burst.
In addition, even if you have a reasonable weight between the trailer and supplies, less stress and wear are put on the trailer tires when they are stronger. This leads them to last longer. While robust tires might cost more, it's worth it when they last longer.
The last thing you want to deal with is a trailer tire that suffers a blowout or deflates. You could end up stuck on the side of the road or out in the wilderness. Too much weight on the tires can also cause axle bending, which is an expensive repair to avoid.
Choosing an ST trailer tire in the appropriate size and the right load rating will ensure you enjoy many happy journeys. This is why it's not worth saving a few dollars on less adequate RV tires.
How to Choose the Right Tire Size
Thankfully, trailer owners will be happy to know that choosing the right tire size is easier than you might expect. The manual for your RV will have most of the information you need. You can find the tire size there, as well as on stickers on the trailer itself.
When it comes down to it, the tire has to fit your rims. In addition, you need to follow pressure and load ratings to get the best possible performance.
Not able to find information about what tire size is appropriate for your trailer? Take a look at the current tires you have on the RV and choose something similar.
On the other hand, if you're unsure, it's best to go to a tire dealer. They can recommend a tire that will meet your needs. This is far better than guessing, which could lead to problems down the road.
How Often Should You Replace Your Trailer Tires?
Now that you're aware of what tires to choose and have checked out our list of the best ones, you might wonder how long they will last on your trailer. While there is general longevity associated with RV tires, you should also look at the tire pressure, sidewalls, and treads before every trip.
For the sidewalls, look for any uneven wear or bulges. These issues might occur if the tire was rubbed or has been hit by an object. In addition, small cracks begin to form as the rubber gets older. However, when the cracks get larger, it's a sign that you should immediately replace the trailer tire.
When looking at the tire tread, it should be at least 1/8 of an inch deep. Depending on the original depth, you might want to be sure it's closer to 1/4 of an inch deep. In most cases, the tires start with 1/3 to 1/2 inch of tread depth.
Remember that as the tread becomes more shallow, you will also have less traction on wet surfaces. This means the tires can't remove the water and hydroplaning can occur.
It's best to be overly cautious in terms of when to replace your trailer tires. If you ignore damage or wait too long, you run the risk of having extreme damage done to your RV. It can also compromise the safety of anyone inside your vehicle.
As far as general longevity, most tires last about three to five years. Even if they have good tread, tires older than six years should likely be replaced.
These tires can dry out and crack even when in storage the whole time. You can expect flat tires more often. Other problems like blowouts are also more likely when using older tires. It's better to replace than to risk an accident.
How to Keep Trailer Tires in Excellent Shape
You have insight into choosing trailer tires, when to replace them, and what brands to choose. We also want to share tips on how to keep your tires working well for as long as possible.
Only Buy Fresh Tires
Whenever you buy tires for an RV, make sure they are completely fresh. Being capable of reading tire dates and checking every time is the best way to get excellent tires that last a long time. Not doing this could lead to you purchasing tires that have been sitting around for a year or even longer.
For the best results, only choose tires that are less than six months old whenever possible.
As soon as tire rubber comes off the assembly line, it starts to break down. That means new tires that sit around for a long time are not going to have the same performance as tires that just came into the shop.
Before you let anyone install tires, check the dates. Then, do it again after the tires have been installed. This ensures you get a nice long lifespan on your trailer tires.
Check the Tire Pressure
You should be checking the tire pressure on a regular basis. Make sure you do so before trips as well as when you are on the road. Having a tire pressure gauge and a tire pressure monitoring system is a good idea. All you need to do is set aside a few minutes when you fuel up to make sure things are as they should be.
If you notice you have a low tire, it's also useful to have a compact air compressor available to take care of it immediately.
Invest in Tire Covers
Keeping your tires in good shape can also be done by using heavy-duty tire covers. Tires tend to break down from the presence of UV rays, whether it's sitting in storage or out on the road in the bright sunshine.
When you cover the tires, it helps keep snow, rain, dirt, and UV rays away from the tires. This ensures they last as long as possible.
Final Thoughts
With the help of this guide, you should be well on your way to choosing the right trailer tires to enjoy your journeys, wherever they take you. Enjoy a quiet and smooth ride with your motorhome and a stress-free trip when bringing along a heavy travel trailer or fifth wheel.
The truth is that the right RV tires can make a huge difference in how your recreational vehicle handles on the road (and off of it). If you need a new set of tires, use the guide above to set you off on your search with all the information you need.