Published Date: December 30, 2020
Last Updated on March 23, 2023 by Camper Front
While going for big travel trailers might seem amazing as you get all the space and basic amenities you desire, they may be hard on your tow vehicle and may even be a road hazard depending on the type of vehicle you have, and they are super expensive to repair or maintain.
Going for campers under 10000 lbs is also a good option if you don't require a lot of storage space.
That is why it is usually advisable to go for the best travel trailers under 10000 lbs. This type of travel trailer has lots of room and is also easy to tow.
And because the camper trailers are lightweight, towing them has little impact on your gas mileage, making them more affordable than larger travel trailers.
So, here are the best travel trailers under 10,000 lbs. you can get today.
Best Travel Trailers Under 10000 Lbs
1. Riverside Retro Travel Trailer
If you are into retro looks then you will love this riverside RV camper as no other travel trailer can sport that retro look as well as the Riverside Retro Travel Trailer can.
It also offers the latest and greatest features that modern-day RVs have to offer. It has 18 floorplans that cover a wide variety of weights and sizes
The travel trailer version of the Retro features a 16,000/20,000 BTU furnace, radius windows and doors,pass-thru storage, and lots of different interior designs buyers can choose from.
There are optional features, packages, and standalone expansions available that you can choose from to take the look of your camper up a notch.
These optional features include an exterior grill, birch interior, flip-up sofa instead of the rear bed, power awning, outside speakers, and lots more! It is an affordable travel trailer that is under 10,000 pounds.
Key Features:
18 different floor plans
Aluminum cage construction
Spacious cabinetry with hardwood cabinet doors
Powder-coated chassis
Radius windows and doors
5/8-inch one-piece floor decking
2. Dutchmen Aspen Trail Travel Trailer
The Dutchmen Aspen Trail travel trailer has a spacious layout and 36 different floorplans that encompass major weight ranges and sleeping capacities which makes it easy to find the right camper for you.
The different available floor plans can make it difficult to make a choice so we are reviewing the Aspen Trail 1700BH. The Dutchmen Aspen Trail 1700PHWhich is also one of the best camper trailers when it comes to affordability.
To start off, you must know that the 1700BH shares the same aerodynamic profile as the other floorplans.
It features bunk beds as well as a queen bed that can hold a total of 5 people in a 21.5-foot footprint, which provides you with a decently spacious room for more improvement with its numerous options available.
It features a shower/tub combo in the bathroom which helps to save space while also providing you with both of the features. It also has a 6-cubic foot size refrigerator, which is something that most travel trailer around 20 feet in length lacks.
Key Features:
36 different floor plans
Radius overhead cabinets
Seamless one-piece walk-on roof
Hardwood cabinet doors
Tinted safety glass windows
High-output furnace with auto ignition
3. Starcraft Satellite 18MK
Although this travel trailer is small in size, it is equipped with every feature you need to be able to enjoy your camping trip.
This trailer sleeps three, it includes a convertible dinette, a bath, and a kitchen area with plenty of counter space, which are the basic things anyone would need in an RV.
The bath area includes a toilet, a stand-up shower, and every other essential needed to attend to your cleaning needs.
This travel trailer also has a well-equipped kitchenette that includes a 2-burner stovetop, microwave, and sink.
It has a lot of functional storage space, and you can use the dining space as a hangout zone; you can also convert the dining area into an additional sleeping area for extra sleeping capacity. Additional sleeping spaces can always be found with a bit of rearrangement.
This RV has an outdoor shower which comes in handy should in case you want to grab a quick shower after swimming on the beach or clean the RV itself.
The exterior is made out of durable materials that make it well suited for extreme circumstances; its outside walls are laminated and made with flooring insulation and foam insulation, which helps to keep you warm during cold nights.
During warm days, there is a 13,500 BTU A/C, which generates adequate cold air for the trailer.
It is also equipped with an electronic roof-mounted antenna, a cable and stereo, and satellite prep, which helps to provide you with all your needed entertainment. You will definitely enjoy your camping trip with a Starcraft.
Key Features
Outdoor shower

Sleeping Capacity: Up to 3

13,500 BTU A/C
GVWR: 3,790-3,950 lbs
Length: 20'2"-22'3"
Width: 77"
4. Forest River R-Pod Hood River 179
All of its floorplans are under 5,000 pounds GVWR, and you also get nine different layouts that span from 18 to 20 feet in length, providing enough room for four people.
This is an open floor plan RV that includes a sleeping area, a sitting area, a kitchen, as well as a dinette. Like many other travel trailers, you can convert the dining area in the Hood River into a sleeping area if needed for extra travelers or visitors.
The kitchenette includes a stovetop with two burners, a sink, a refrigerator, and a microwave.
The sleeping area includes a queen bed that sleeps two. However, this trailer has an uncommon type of bathroom.
It is a complete wet bathroom, which means everything within this restroom is able to get wet due to the shower being close to everything in a bid to save space.
Key Features
13,000 BTU air conditioner
Nine-floor plan
Length:18-20
Weight: 2342-2836 lbs
Tinted safety windows
LP, CO, and smoke detectors
5. The American Dream Trailer
If you are not into hardcore off-roading trailers, but still want an interesting camper, then the American Dream Trailer is the right option for you. It has a retro design that is stylish and widely popular.
This trailer has a simple design and was inspired by a vintage 1961 model. But do not let its simplicity fool you, this camper comes armed with some very fun features.
This is a very stylish camper that performs a whole lot more than is anticipated from it.
The roof of the trailer has a hull-like shape and is also a removable boat making it a perfect choice for those who love camping near a body of water.
The rooftop boat can be removed and is attached with five latches, and in case you are worried about exposing your camper's interior when you take the boat off. Well, there's actually a separate roof underneath the boat, that keeps your trailer enclosed when the boat is removed.
The roof boat can carry up to three people or 500 lbs of weight and It also has a motor mount that can handle a motor of 2 hp.
This trailer comes with oars for rowing your boat, curtains, oarlocks, a checkerboard floor, and a tailgate for food storage and preparation.
With the boat roof attached, the trailer may seem a bit bigger than it actually is. This camper is small, lightweight, and compact.
Optional features for the trailer include an interior table and two-tone color schemes, which take about 6-8 weeks to be delivered when ordered.
Aside from the detachable boat on the roof of the trailer, the American Dream Trailer also has a rear-mounted cooking, custom full-mattress, storage galley, and pop-out windows that help to ensure adequate ventilation inside your camper.
Key Features
Trailer Weight: Base: 1890 lbs.
Ground Clearance: 16"
Chassis Length: 13.8'
Chassis Width: 7.5'
Trailer Height: 6'
6. BCT Moab Gobi Trailer
The Gobi trailer is a small travel trailer that is equipped with essential features some of which you won't find in any trailer.
The BCT Moab Gobi Trailer is very affordable and it is loaded with interior sleeping and storage arrangements which are quite spacious and luxurious.
It has a comfortable sleeping area, with a series of internal wood storage cabinets and even an exterior kitchen.
The kitchenette includes a functional sink and a dual burner camp stove which allows you to cook meals and also clean them up right after without any hassle.
The trailer features off-road tires for any off-the-grid adventures. The Moab Gobi also has its own electric brake system for safety and you can also upgrade it.
Key Features
7-inch foam mattress that fits two people
2-burner cooktop
20-pound propane tank
24-gallon (91 liters) freshwater tank
Tankless propane water heater
7. Airstream Flying Cloud
Airstream is known for its amazing campers and this is no exception. The Airstream flying cloud features a twin-bed floor plan, which isn't bunk beds.
It has Panoramic windows that cover the front and side of the nearly 28-foot trailer, making it easy to get great views while lounging on the L-shaped Ultraleather couch, which can also be converted into another bed.
It also features a stylish kitchenette that has a 7-cubic-foot fridge, a convertible dinette, a three-burner cooktop, counter space, a convection microwave, and a stainless-steel sink with a cutting-board cover.
It has a split bathroom that places the toilet and sinks on the curbside and the shower across the hall.
Although this Airstream model has no slideouts, it has plenty of functional storage tucked into all the nooks and crannies including cabinets under the dining booth, a magazine rack, and coat and key hooks.
Key features
Exterior Length: 23 ft.
Exterior Width: 8 ft.
Maximum Trailer Capacity (GVWR) (lbs.): 1,239
Sleeping Capacity: Up to 6

L-shaped spacious seating
8. Forest River Flagstaff E-Pro Travel Trailer
If you are looking for a travel trailer that is lightweight as well as affordable then the Forest River Flagstaff E-Pro Travel Trailer is a great option.
This trailer usually weighs less than 3,000 pounds and offers seven different floor layouts.
Although this camper is known to be a small trailer, it makes use of its space inside to the fullest. It includes many features that make the Flagstaff E-Pro a great buy.
Some of these features include a Wi-Fi ranger, tinted bonded frameless windows, a 20,000 BTU furnace, a laminated vacuum roof and walls, roof and ground solar prewire, and 7 unique floorplans.
This trailer also includes external speakers and a manual awning that can be upgraded to a power awning. A power awning is great for tailgating or just enjoying an evening by the fire. For your off-grid adventures, this forest river trailer features a solar prep and a tongue-mount bike rack that is optional.
It has a different range of floor plans, and it is also lightweight yet affordable quality, It is not too big, not too small, and perfect for all your weekend getaway dreams. The Forest River Flagstaff travel trailer has sleeping spaces for 2-4 people which is the perfect size for a couple or a cozy little family.
Key features
Hitch Weight: 1621 lb. – 2641 lb.
Exterior Length: 11′ 3″- 20′ 2″
20,000 BTU furnace

Sleeping Capacity: Up to 4

Laminated Vacuum Roof
Conclusion – Best
Campers

Under 10000 Lbs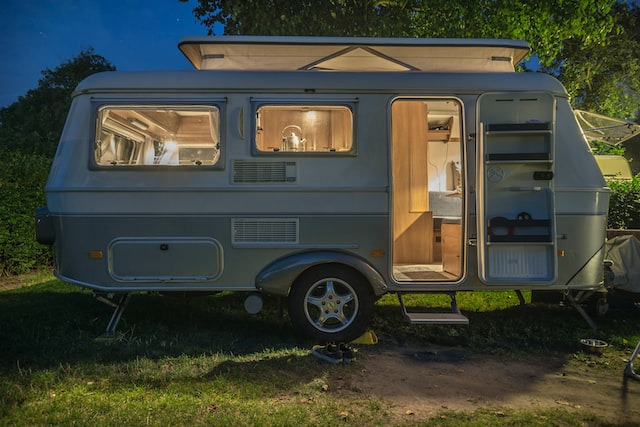 Well, there are lots of best travel trailers under 10,000 lbs in the RV industry. Sometimes the search can be overwhelming, so this article has helped to narrow down the choices to a couple of the best.
Remember that your budget, the dry weight of the trailer, and the towing capacity of your tow vehicle all play a leading role in the purchase of any camper, so determine your preference and make the best-suited choice.