Published Date: October 21, 2022
Last Updated on November 23, 2022 by Camper Front
The Ford F-150 is one of the most popular full-size trucks of all time. Most people opt for it to use as truck campers and towing travel trailers.
With its strong steel frame and a military-grade aluminum-alloy body that can endure a lot and haul a huge amount of weight, the Ford F-150 provides one of the best-in-class payloads.
But regardless of its strength, exceeding its towing capacity can lead to some serious safety issues. Below, we will show you some of the best campers for f150.
Although The F-150 can tow up to 13,200 lbs with the right trim level and tow package, when it comes to towing a camper, most F-150 models can only pull a travel trailer that's under 6,000 lbs while some can pull up to 7000 pounds
With this in mind, let's talk a look at some campers under 7000 pounds that can be safely towed with an F150
1. Adventurer 80RB by ALP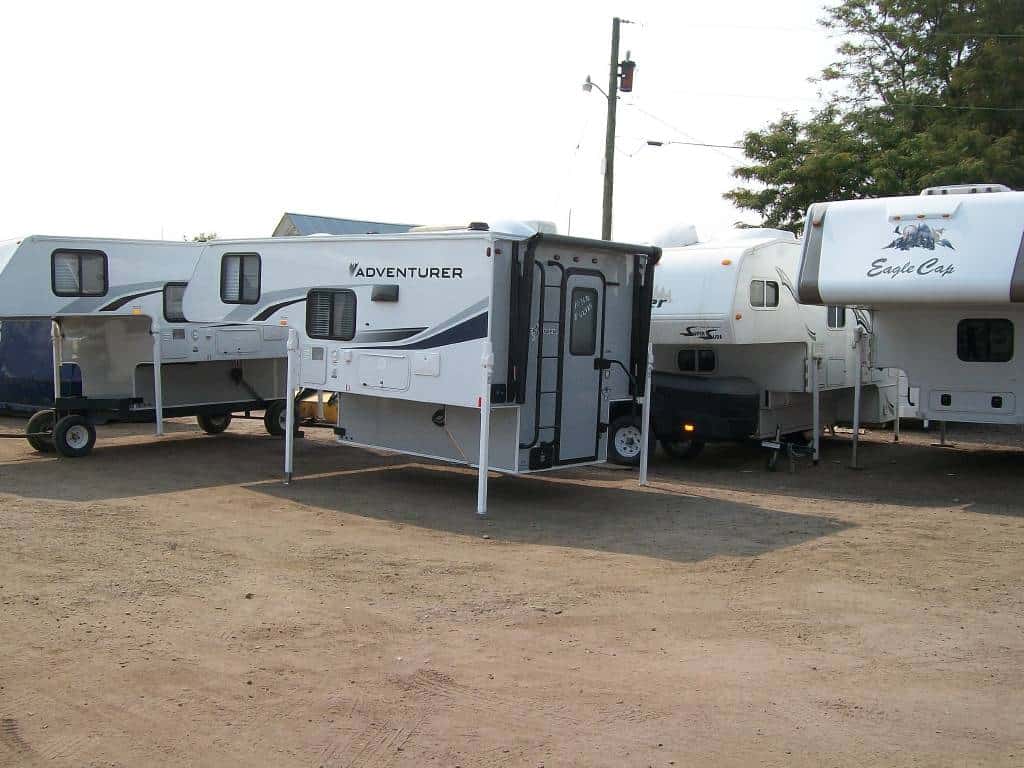 The Adventurer 80RB has a special uniqueness in that it fits on both short-bed and long-bed half-ton pickup trucks.
Although the holding tanks in the 80RB are quite small with 15 gallons fresh, 6 gallons grey, and 6 gallons black, this camper has every other utility you will need to boondock comfortably, this includes a nicely equipped wet bath and a kitchen with a 4-cubic foot refrigerator.
One of the most striking aspects of this 1,808-pound camper is that it has an attractive and roomy interior. It is equipped with cherry cabinets with fully radiused corners as well as stainless steel appliances and accents that give the interior a modern, residential feel.
The Adventurer 80RB also has a dinette that features a flip-out sofa that can be converted into a full-length bed. However, there are some downsides to the camper's design and 8-foot floor length, one of which is the ugly rear that overhangs when it is mounted on a short-bed truck.
However, this can be fixed with some side storage boxes, not only will this solve the problem with the looks, but it also increases the storage capacity of the camper, but unfortunately, the production company does not offer side storage boxes as an option and you would have to make that purchase separately.
The Adventurer 80RB has an 8-foot floor length and center of gravity that precludes it from being mounted on a 5-foot 5-inch mini short-bed truck. It has a starting price of only $19,208.
2. Alaskan 6.5 Cabover
This is a go-to option for those who find it difficult to decide between getting a pop-up or a hard-side camper. The Alaskan 6.5 Cabover, is a hybrid that has features of both. The difference between the 6.5 Cabover and the traditional popup camper is that it doesn't have canvas sides.
The Alaskan 6.5 Caboverhas a trademarked pop-top that has the feel and design of a solid wall. It utilizes a hydraulic mechanism that lowers and raises the entirety of the camper's top by simply flipping a switch.
this telescopic feature comes with quite a number of great benefits. One of which is the adequate standing room it provides in the camper as well as improved gas mileage and less wind resistance.
This also makes the truck camper more suited to off-road. The interior features a beautiful dinette that is made out of leather, a ceiling full of wood paneling, and gorgeous maple cabinets installed all throughout the camper.
This Camper offers a great amount of generous counter space as well as overhead storage compartments.
This truck camper weighs 1,390 pounds and has a 15-gallon freshwater tank, a 3-way 2.6 cubic ft fridge, a 5-gallon tank for propane, a full-length door, and Here windows as standard.
Along with all these amazing features, you also get a 24, one group battery as standard, but you can opt for two.
Other optional features include a water heater with a 4-gallon capacity, a cassette toilet made by Thetford, a 20,000 BTU heater by Suburba, LED lighting, and a 160-watt Zamp solar system. the 6.5 Cabover is very affordable and can be purchased for $29,039.
3. Hallmark Milner 6.5
This camper was Introduced in 1969 and is another bonafide classic.  The Hallmark Milner 6.5 is made of a durable yet attractive molded fiberglass composite exterior and is covered with a low-maintenance, one-piece molded composite roof.
Although it has a very stout construction, the camper only weighs 1,212 pounds dry so it is easy to tow.
Its Standard features include:
A 60×80-inch east-west bed with under bed storage
A large, beautiful one-piece molded countertops
30-gallon freshwater tank; exclusive big view double windows
A 5-gallon propane tank, a three-way 3.8-cubic foot refrigerator
Attractive overhead cabinets with Tambour doors
A battery compartment that is large enough to hold two 6-volt golf cart batteries
The Hallmark Milner 6.5 offers impressive features and includes a 12-gallon grey tank, a shower pan for indoor showers, a 5-gallon black tank, a portable toilet that is large enough to store, a north-south bed, a 4.2-cubic foot compressor refrigerator, and a Zamp 160-watt solar suitcase.
Even with the interior cabinetry, you are offered options because although All campers come standard with Oak or Amber Bamboo cabinets, there are Cherry, Blond Bamboo, Maple, and Hickory cabinetry which is also available at an additional cost of $1,200.
You even get Coosa composite cabinetry at an additional $2,000.  The hallmark Milner 6.5 camper comes with a 5-year structural warranty, which is a rare feature for many campers in the entire industry. The starting price for Milner 6.5 is $26,900.
4. Outfitter Caribou Lite 6.5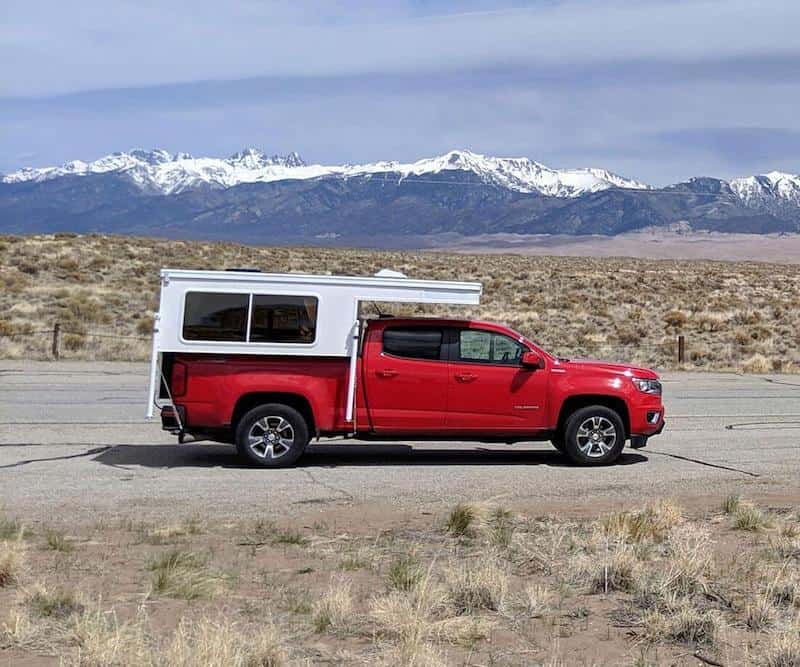 This camper weighs only 850 pounds, which makes the Caribou Lite 6.5 one of the lightest and lowest profile campers on the market. The construction of this camper consists of vacuum-bonded composite walls, a full walk-on roof, and a fully welded, boxed aluminum frame
The Caribou Lite is also well insulated to the max with Owen Corning block foam insulation in the hard walls, and Weblon three-layer insulation in the soft walls. One of the most outstanding features of this camper is the full-size cabover bed that pulls out into a full-size queen.
Other features include:
A 24-gallon freshwater tank
5-gallon propane tank
A 1.9-cubic foot three-way refrigerator, a Progressive Dynamics 45-amp converter charger with the three-stage charge Wizard
A 16,000 BTU furnace, a torsion-assisted lift system
A three-burner cooktop, attractive birch interior doors, and cabinets
Solar reflective windows
Optional features include a 5-gallon cassette toilet, an outside shower, a 3.8-cubic foot Tundra DC compressor fridge, a 95-watt solar power system, a King Dome satellite dish, a Yakima roof rack, and an air conditioner. This is one of the 10 best campers for the Ford F-150 pickup truck.
It comes with a mind-blowing LIFETIME structural warranty, and sells for only $16,720, making it one of the most affordable campers on this list.
5. Phoenix Mini-Max
This is a customizable camper and customers can start with a base model and add only the options that they want. It features a 7-foot floorplan with an east-west 60×80-inch bed, a large dinette forward, a wet bath on the driver's side, and a small kitchenette on the passenger side.
It has a dry weight of only 1,180 pounds, and its construction consists of an all-aluminum double-welded tube cage frame, that is stuffed with high-density foam, and protected by a tough outer shell of pre-laminated thick, one-piece Crane fiberglass.
The features also include an 18-gallon freshwater tank, a Thetford cassette toilet, an 8-gallon grey water holding tank, and Dometic 1.9 cubic foot compressor refrigerator. It has a birch standard cabinet color with a clear coat finish, but you can also order more exotic cabinet materials like bamboo.
Popular optional features include integrated power inverters with a built-in transfer relay, solar power systems of various sizes, roof racks, a rear ladder, floodlights, a low-profile air conditioner, and Rotopax fuel-water containers.
You can also order a custom color on your camper so it matches your truck. It has a very exquisite design and it even works well on mid-size trucks with smaller holding tanks. The Phoenix Pop-Up Camper Mini-Max has a starting price of $37,000.
6. Lance 650
The Lance 650 gives you both luxury and comfort for today's Ford F-150. the F-150 and Lance 650 combinations are so luxurious and easy to drive, making it one of Cruise America's most popular rental RVs.
This camper provides a north-south queen bed and a full-size wet bath with a sink, it also features a large kitchen and a dinette long enough to sleep an adult. With standard equipment, the Lance 650 weighs only 1,700 pounds dry and 1,903 pounds wet.
It has a floor length of 6 feet 10 inches long and offers about 6 feet 9 inches of interior height. These campers varying tank sizes includes 22 gallons fresh, 15 gallons grey, and 16 gallons black.
It also has a new exterior one-piece TPO nose cap, which gives the camper a sleek and aerodynamic look, it has an optional feature of a tankless water heater, and Lance's new Easy Charge exterior charging center for quick battery charging.
It is a very versatile camper that can fit on both 6.5-foot and 5.5-foot pickup trucks, although the Lance 650 offers lots of features without raking up excessive weight.
You may still have to get your F-150 suspension upgraded and also have higher rated wheels and tires installed to be able to tow this camper unless your truck has already been equipped with the heavy-duty payload package. The starting price for lance 650 is $23,738.
7. Bundutec Wild
The Bundutec Wild is a relatively new design and comes with amazing features like a complete wet bath, a large grey water holding tank which makes using the wet-bath practical. It is a beautiful-looking camper with a grey aluminum exterior and black accents.
It has a 7-foot floor plan that features a kitchen and wet bath on the driver's side, a refrigerator with lots of storage on the front wall, as well as a full-length dinette on the passenger side.
Standard features for this camper include:
A north-south 56×74-inch mattress with under bed storage
A 21-gallon freshwater tank
A 17-gallon grey water holding tank
A NovaKool R3000 compressor refrigerator
A stainless steel sink
Window and door screens that help to keep bugs away
Optional features for the Bundutec wild include a Zamp 160-watt solar power system, the BunduAwn wrap-around awning, and the revolutionary Truma Combi water heater furnace that helps to save on weight and space and also has a whisper-quiet operation.
This is also one of the best campers for the Ford F-150. It weighs 1,610 pounds putting it on the heavy side with its rugged, all-wood construction, but its amazing features sure make up for that. the bundutecWild costs only $18,600, making it also affordable as well.
8. Four-Wheel Camper Hawk
This camper has a floor length of 6.5 feet and a dry weight of only 1,075 pounds, making it a great match for the Ford F-150 pickup truck.
The Hawk features a 20-gallon freshwater tank, a fully equipped kitchenette, an east-west queen bed, a three-way 1.7-cubic foot reefer, and durable and attractive interior woodwork.
There are three different floorplans to choose from when ordering a Hawk—a roll-over side couch, a side dinette, or a front dinette. Optional features include a cassette toilet and an outside shower which can both be added upon request.
Four-Wheel Camper Hawk also offers a 160-watt roof-mounted solar system, a dual battery setup, an 85-liter DC compressor refrigerator, and two 10-pound propane tanks.
Four-Wheel Campers utilizes a proprietary tie-down system that consists of four, zinc-coated eye bolts that are reinforced with steel backing plates that are mounted onto the bed of the pickup.
Using a hidden system like this helps to present a clean look on the outside of the camper, and it also works great for off-roading as it has a welded aluminum frame and aluminum exterior which is very durable. the FWC Hawk Costs only $18,995.
Conclusion | Best Campers For Ford F150 Truck
Before purchasing a camper to tow with your F150, make sure your truck can handle the extra weight because there are lots of best campers for F150 trucks on the market to choose from.
When it comes to hauling a truck camper, you have to pay attention to the payload rating, as well as all other performance numbers including horsepower, fuel mileage, and torque. You don't ever want to haul a camper that is too heavy for your truck.