Published Date: February 25, 2021
Last Updated on April 18, 2023 by Camper Front
Well, nothing in life is immortal, not the house we live in – not our beautiful cars – not the clothes we wear – and even we as humans, we'll all die one day. In other words, every tree will eventually fall – and this can also be said about that camper trailer you so much love.
Your travel trailer will get old one day and you probably won't know what to do with it like most people I've met. This is why you need to understand how to get rid of an old camper trailer from the onset.
But you don't have to worry about that as we're always here for you. So, if you have gotten to the point where you don't need your RV again or you just want to upgrade to a new one; in today's article, we will be looking at how to get rid of old motorhomes.
Let's get started!
How Do I Get Rid Of An Old RV?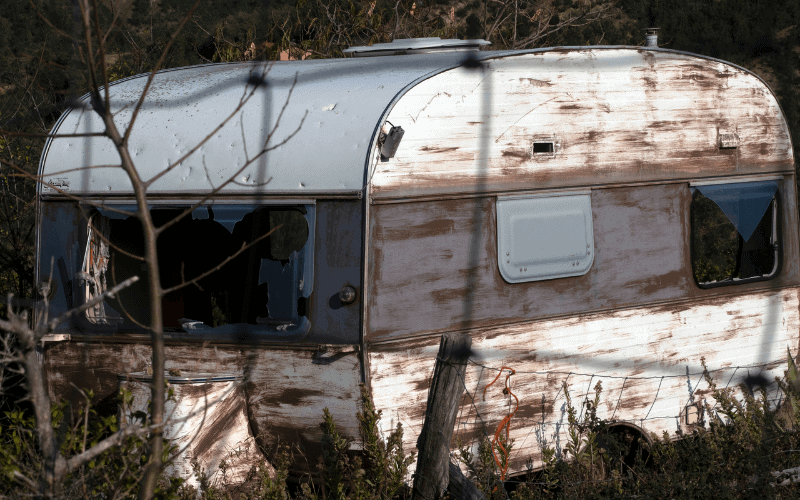 There are plenty of ways you can dispose of your old camper trailer, even if it is no longer in working condition.
Below are some of those ways in summary:
Sell your camper trailer to an RV salvage yard
Sell it on eBay or Craigslist
Donate it to the fire department
Donate your RV to charity
Dismantle your trailer and sell the parts
Donate your camper for a tax break
Call a professional RV removal service
Convert the RV to a lodging property
Pay someone to get rid of the travel trailer
Contact online RV communities
Sell it to DIYers
What Can I Do With An Old Trailer?
The weathering elements that break down and recycle old materials by nature can also have a significant effect on old campers. One of the easiest things to do with an old camper is to donate it to the fire department – donate it to charity.
Due to the rodents that are often looking for homes and accompanying oxidation that yellows the surface, a camper trailer that's not in use can deteriorate quicker than you can imagine. So, it's wise to do something about it as soon as you can.
How To Get Rid Of an Old Camper Trailer
Having answered the questions above, let's now look at the different ways you can get rid of an old camper trailer easily:
1. Sell your old camper trailer to a scrap yard
Many scrap yards out there will take old RVs based on their estimated scrap metal weight – and this is one of my favorite ways of getting rid of an old RV.
But just like selling your truck or car to them, you will likely get around $500 only. However, when you scrap a standard road vehicle, they often give you a price quote based on the vehicle's weight.
This simply means that you would get paid higher for a half-ton pickup van than you would for a sub-compact vehicle.
In terms of travel trailers, most scrap yards already know/believe that it is mostly made from materials that have little or zero value to them.
Porcelain toilets, fiberglass walls, and laminated countertops are just some additional materials that they only need to get rid of.
Therefore, if you are able to find a scrap yard that is willing to accept your camper, expect a flat rate from them with little to no room for negotiation.
2. Sell your old RV on eBay or Craigslist
Remember the popular saying "one man's trash is another man's treasure?" Well, that is also the same for your old camper. So, don't count it off yet. There are many people on eBay and Craigslist that will happily take it from you. So, why not list your old motorhome there?
Conversion projects like skoolies (school bus conversions) are also finding uses for parts from old camper trailers all the time. You can find these handy people through several popular sites:
Therefore, if you think your junky old camper isn't worth anything, you need to think again. It may surprise you to know that vintage RVs and tiny house fans are constantly looking for diamond-in-the-rough campers.
According to Abel Zimmerman Zyl, who is a tiny house designer and founder of ZylVardos.com, "there's a market for that." Abel explains that lots of tiny house builders repurpose parts from old trailers since the small structures are basically 500 sq ft or less and are built on top of towable foundations.
Another amazing place you can dump your old travel trailer is on Freecycle, which is a popular international nonprofit network that has nearly active 10 million members.
If you're looking for something most times, you'll likely find it on Freecycle, making it a fantastic place to offload your old camper trailer as someone else might find it very useful there.
3. Donate it to the fire department
This is clearly one of the best ways to get rid of an old trailer, but that is only if the RV no longer holds any financial value.
However, safety concerns and regulations might not allow this option. This is because when firefighters practice quenching fires, they must be careful and avoid releasing toxic fumes into the air at all costs.
But if this option does work out, you might be able to effortlessly and freely get rid of your camper.
4. Donate your old RV to charity
This is another great option, but that is only if your trailer is still in decent shape. First of all, it helps people in several ways.
Secondly, they will issue you a receipt for its value, which can be used as a write-off. This is almost the same thing as giving you cash when tax season arrives.
Thirdly, charities usually have all the paperwork and forms prepared, sometimes online, which will speed up and simplify the entire process.
The good thing is that there are many charities out there that accepts camper trailers, here are a few of the popular ones:
Cars2Charities: Cars2Charities allows you to choose which cause you want your gift to support;
Medical aid
Animal rescues
Homelessness
Human services
Veterans
You will also get a personal incentive.
The C2C enhances the way the donations look and sound in order to improve their value. They equally carry out necessary mechanical repairs to boost the resale value if it'll increase the donations' value enough to be worth it.
Interestingly, that increased value also counts toward your write-off, which is pretty awesome.
VehiclesforVerterans: This might be the ideal option for you if you are in the U.S. The United States has an estimated 50,000 homeless veterans who obviously need shelter.
Even if transportation is a problem, you don't need to worry about that as the VFV will arrange the pick-up for the trailer, and you won't spend a cent on that.
WheelsforWishes: This is a charity for kids with life-threatening sicknesses. It is one of the popular Make-A-Wish foundations that are created to help to hurt children achieve their dreams.
To date, WFW has been able to fulfill more than 9,000 wishes (and still counting). The profits they will make from your old motorhome might be sufficient to fulfill one more wish. So, I think you should really consider this option.
5. Dismantle your trailer and sell the parts
Some people may find this approach very difficult. However, you can dismantle your RV yourself if you have been RVing for years and have enough experience handling RVs inside out. This will take you some time though.
By dismantling your old trailer yourself, you will be able to recycle and sell the RV parts yourself and also take help from other professionals in the area.
You can get in touch with Metal Recycling scrappers who buy metals. You may be able to make some more money this way because you will be selling the parts separately instead of the camper trailer as a whole.
This will even be more helpful and profitable if you have adequate knowledge of different parts of the RV.
I would suggest you choose this method if you have some time and enough experience with RV parts or if you know someone who can help you dismantle it.
You can sell the dismantled parts separately on eBay, craigslist or salvage yards (we've already discussed this method above).
6. Donate your camper for a tax break
Some non-profit organizations and technical colleges out there accept anything related to vehicles including motorhomes and RVs.
They can use it for several things, including scrapping it themselves, repurposing it into something else, or using it for educational projects for students in auto shop programs.
Some places will even take old vintage camper trailers, decommission them, take out the tires, and use them to create a lodging property.
However, it's worth mentioning that you will likely not get any cash-in-hand value if you choose this method. But the donation can be written off on your taxes at the end of the year.
All the paperwork will also be handled by them, which can sometimes be a difficult task when transferring the title of a large camper.
Furthermore, most of these non-profit organizations are not new to this, and they have the trailers and the necessary equipment needed to haul your old RV away.
This is especially beneficial if your motorhome has a major mechanical problem that made you abandon it in the first place.
7. Call a professional RV removal service
One of the best and most convenient ways of eliminating old travel trailers is to call a professional junk RV removal service. An insured and licensed company like A+ Enterprises can handle this type of project.
The company can haul away your old RV or motorhome, not minding the condition. And if your junk camper is decaying, they can also demolish and dispose of it.
The company has disposed of lots of old campers, RVs, and motorhomes for their customers. Therefore, I suggest you call A+ Enterprises Junk Removal & Demolition today if you are in need of having an RV, camper, or Winnebago removed.
8. Convert the camper to a lodging property
The private lodging industry is gradually becoming very popular. People that have good locations close to a popular lake or natural attraction decommission old camper trailers, fix them up and rent them out.
This practice is more popular with niche RVs such as airstream; however, a good location also matters. Most of the time, the RV never moves on the road again as the road-going components are often decommissioned.
The exterior will be touched up, and the interior will be fully restored to modern standards. If you have any of these auto-campgrounds anywhere around you, and your camper trailer is still relatively roadworthy to get there, they might buy it from you effortlessly.
Once they restore the RV up to the standards of the campground, they will offer it on sites like Air BNB or VRBO.
9. Pay someone to dispose of the RV
Many junk RV buyers offer the easiest way to get rid of your old RV, a perfect example is Southern California's "GoJunkFree.com." The only drawback to this is that you will be required to pay them for the convenience of disposing of the mess.
From trash-stuffed campers to feeble RVs abandoned on the roadside, there's no rig that's off-limits to the guys at GoJunkFree.com, provided it's in Southern California.
The company will charge you more if the trailer has to be towed; however, you will spend less if it runs on its own. Berger typically charges anywhere between $500s for small camper trailers to around $1900 for bigger motorhomes.
10. Reach out to online RV communities
Today, the RV lifestyle is apparently growing in popularity like never before with numerous online message boards and RV communities attracting new members on a daily basis from almost every walk of life.
Once you're a member of any of these communities, you can simply post a message, stating an honest assessment of the condition of your camper, and someone (another member) will probably give you a lead on where you can sell it.
Some people will even buy a piece of hunting land or lake land and will decide to stay outdoors but don't wish to stay in a tent – and still can't afford to build a cabin.
If your old RV's interior is still in good shape, and all the necessary amenities still function, then you might be able to sell the RV to someone who will desire to park it as a short-term cabin.
11. Sell it to DIYers
Are you still looking for how to get rid of an old camper trailer? Well, another option is to find people who buy RVs and work on them as DIYer projects. This may not be easy, but if you're able to find such a buyer, you'll likely make more money from your old trailer.
This will work much better if you have an old vintage RV that isn't strong enough to travel now but still has a vintage value.
You will never know the true worth of your RV unless you come across that vintage camper lover. That worthless RV lying idle in your backyard might really be worthier than you imagine.
Related Articles:
Conclusion
Sometimes, getting rid of your old camper trailer can be a difficult task. Apart from the fair amount of paperwork involved, it can equally be a challenge to get a good deal.
But there are still some fantastic options out there if you're willing and ready to roll up your sleeves and do the legwork.
Just research more on any of the options listed here and see the one that seems to be easier and more convenient for you.