Published Date: February 21, 2021
Last Updated on June 22, 2023 by Camper Front
The best travel trailers for couples can make traveling and camping an exciting way to spice up your relationship, creating unforgettable memories for both of you
While it may seem easy to find a perfect trailer, not all travel trailers will offer you that luxury and romantic feel for you and your sweetie.
We don't want you to acquire the wrong one, which is why we have only listed the best travel trailers for couples.
Whether you are looking to buy one or hire one for the vacation, any of these travel trailers will be worth your money.
Why You Need A Travel Trailer As A Couple
1. Cut down on costs
If you decide to compare the price of hiring or buying a travel trailer to booking a hotel for every of your trip, you'd see that having a trailer is more cost-effective.
You would not need to hire a room or pay for meals because you have everything to live a normal life all engineered into the design of a travel trailer.
Also, they are affordable to acquire compared to the larger bunkhouse trailers designed for the family.
2. Easy to tow
Travel trailers for couples are usually small and lightweight; after all, you'd want to only have one that can sleep just two persons. For a lightweight trailer under 5,000 lbs, any car can effortlessly tow it.
Small trailers for couples are also easy to maneuver and navigate through the woods and rough terrain, no matter your location or destination.
3. Provide more opportunities to bond
In a travel trailer, there is almost no room for privacy. So you tend to do everything together. This will help you bond, know yourselves more and explore each other because you would always be together.
Best Travel Trailers For Couples
We know you have been waiting for this, so without any further ado and in no definite order, let us quickly screen through the 5 best travel trailers for couples available in the market today.
1. R-pod RP-180 by Forest River (Lightweight Camper For Couples)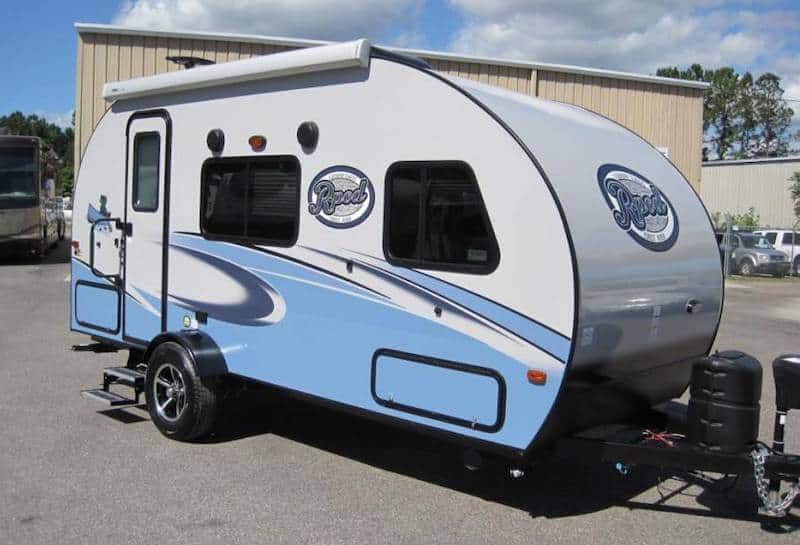 Key Features:
55 amp converter w/ charger
Water heater by-pass system
It has 9 different floor plans
Air conditioner readily available
Ground fault-protected electrical circuit
Comes with a fire extinguisher and smoke detector
Small, portable, and well-conserved space, this travel trailer has got everything you'll need to have a fulfilling trip, and it's a very lightweight travel trailer for couples.
There are different models of r-pod trailers, but we choose to pick this because it meets our criteria for picking a couple's travel trailer. We love the fact that it is lightweight, weighing just 2950 lb.
The bathroom is well equipped with a sink, a WC, and a dry bath. Open concept design provides tons of natural lighting and crosses ventilation.
There are no chances to leave any belonging behind because this camper comes with sufficient interior and exterior storage spaces.
The bed is one of the most favorite spaces in a camper. R-pod has got it right here by installing a 60 X 74 queen bed.
Some of the interior features include a dinette, kitchen with sink and cooktop, TV, refrigerator, etc. while these should be enough to make your trip great, you also have options to customize or upgrade to meet your taste.
Pros
Small and lightweight
Sufficient storage space and exterior attachments
Comfortable and large queen bed
Built with a powder-coated steel frame that resists corrosion
Cons
There is not a noticeable con worth mentioning
2. Winnebago Micro Minnie 1708FB (Best Travel Trailer Under 30 Feet For Couples)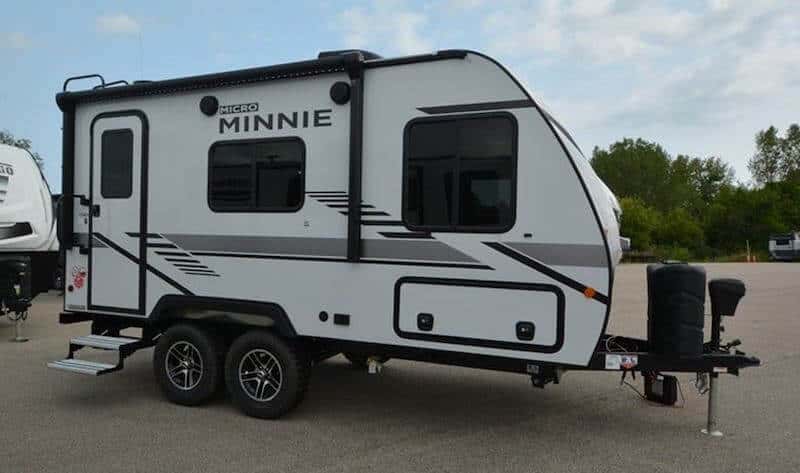 Key Features:
Light interior decor and large windows, give the RV a comfortably spacious feel
A standard LED TV, an AV system, and WiFi for your entertainment
Fantastic cooking facilities equipped with full waterfall-style back-splash
A flush-mount range and large stainless steel sink for a better cooking experience
It has slide rooms, which can expand the RV's livable space
If you are looking for sturdiness and stamina, the Winnebago has got it all. This is credited to its double wheels. It's also one of the best travel trailers under 30 feet for couples available in the market today.
Depending on your preference regarding space, Winnebago has a range of models of different sizes. No matter what you pick, you would still have a lightweight camper.
Both the interior and exterior have been equipped to provide all the fun. From the comfortable dining set, TV, and fridge in the interior, to the large awning outside the unit, you would not miss a moment of fun.
What we love is the conservation of space. The dinette and sofa would both convert to a large bed and queen's bed respectively, giving room to sleep 4 persons.
This is an advantage because you wouldn't need to upgrade your trailer when the kid starts getting prepared to join the fun.
Pros
Sleeps more persons for its space
Different models to choose from
Double wheels for stability and rugged terrain
Sufficient interior and exterior storage space
Great features like the patio speakers, a motorized awning, and slick LED lighting
Cons
Limited space for movement when both beds are set
3. Livin' Lite Quicksilver VRV XTR 614 (Best Luxury Travel Trailers For Couples )
Key Features:
A dry bath
Different interior and exterior storage spaces
Outdoor entertainment for fun activities
Screened-in back ramp
Refrigerators ready
LED television set for your endless entertainment
12 inches awning to provide outdoor shade
Sleeps more persons than a usual couple's size trailer
This is one of the best luxury travel trailers for couples out there. After much scrutinizing, this travel trailer made it to our list and you would find out why.
First, the reason is that we wanted to include a travel trailer with the capacity to haul. We understand that some couples would love to explore their site with an ATV or bring along more heavy camping gear. Despite being small and lightweight, this trailer would haul 3 ATVs.
Surprising right? well, thanks to its anti-rust aluminum frame that guarantees durability and strength. Moreover, it only weighs 2,300 pounds.
There are about 7 series of this model with different sizes capable of sleeping between 4 – 7 persons.
Quicksilver VRV XTR 614 comes with a large bed and a convertible sofa bed. Other features include a dry bath, outdoor entertainment, a screened-in back ramp, refrigerators, and TV.
Again, you can always upgrade your trailer anytime with every luxury you found appealing.
Pros
Large 12' awning to provide outdoor shade
Numerous storage spaces both interior and exterior
Sleeps more persons than a usual couple's size trailer
Can serve as a toy hauler for ATVs
Cons
Although lightweight, it may seem too bulky
4. Forest River Flagstaff E-Pro E19FBS
Key Features:
17-floor plans
Recessed ceiling LED 12-volt interior lighting
Driftwood interior
Power awning with adjustable rain dump and LED lighting
Fully aluminum frame (Floor, roof, and sidewall)
Vinyl/rubber composite roofing membrane
Interior Height: Unknown
Exterior Length: 20 Feet
Exterior Height: 9 Feet, 9 Inches
Wet Weight: 4,413 Pounds
Unloaded Vehicle Weight: 3,075 Pounds
Slides: 1
This may not be the best as regards material selection, but there are a lot of advantages that make this camper stand out. We wanted to recommend a product for first-time RV buyers. This is one of the most affordable for anyone looking to own their first RV cheaply.
The only major con we found with this trailer is that the quality control isn't as good as some other brands. The exterior materials are of lower quality or thinner than some of their counterparts. Well, this is nothing too much to be worried about because it is only based on the comparison.
The storage is moderate, and not too accommodating, but for couples, it should just be sufficient to pack all the needed gear.
There is a comfortable 60″ X 80″ queen bed, a sofa, a functional kitchen with a heat extractor, and a functional bathroom. It also comes with electrical appliances such as a refrigerator and TV set.
Forest River Flagstaff E-Pro E19FBS only sleeps two persons and weighs less than 3000 lbs.
Pros
It is affordable
Lightweight and easy to haul
Cons
Not the best material selection
Less storage space
Only sleeps 2 persons
5. Cricket by Taxa Outdoors (Best Lightweight Travel Trailers For Couples)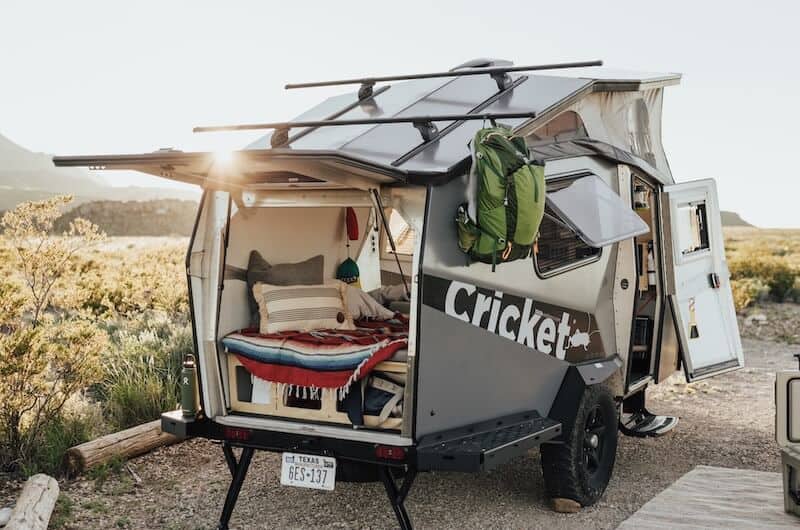 Key Features:
Powder-Coated Steel Chassis
Sink with Hinged Lid
2,000 lb Tongue Jack
High-Pressure Laminate Countertop
Torsion Axle Suspension with Electric Brakes
16 gallon Grey Water Tank
15″ Alloy Wheel with All-Terrain Tires (5-year manufacturer warranty)
Roof Tracks for Rack Options
15″ Steel Spare Wheel with All-Terrain Tire
12V Accessory Outlet (Exterior)
Powder-Coated Steel Gravel Guards
Battery Compartment (Fits 2 Group 24 or Group 27 Batteries. Batteries not included)
12V Accessory Outlets (Interior)
Quad Stabilizer Jacks
HDPE Countertop Behind Sink & Stove
Laser Cut Aluminum Skeleton
So we thought to include a camper with lots of openings, especially for couples who would love hitting the road every summer. Luckily, we found one that meets our criteria.
Cricket is not your usual camper; it is one of a kind and loaded with all features that will give you a romantic memory.
This tiny guy manages to include a full bed that can sleep two adults and 2 children and a kitchen.
Note that this is more like a tent, so you do not get to have all the features of a regular travel trailer. Haven said that – the only challenge is that it comes with a portable toilet and an outdoor shower rather than a functional convenience.
Cricket is extremely lightweight, weighing just 1,700 lbs.
Pros
There is a 2-year structural warranty
Can accommodate a small family of 4
Extremely lightweight and easy to haul
Roof pops up for improved ventilation
It is affordable
Cons
No functional toilet or bathroom indoors
Checklist For Buying A Travel Trailer For Couples
If you still want to check out other options apart from the ones we have recommended here, we will advise that you take some of the following factors into consideration to help you buy right
1. The capacity of the trailer
We understand that you just want a travel trailer for you and your partner. However, you may want to make some futuristic considerations.
Rather than having to upgrade the unit or buy another camper when the children start coming into the game, you may want to consider buying a camper that will sleep more people.
At least, a camper that can conveniently sleep 4 persons would be a good one to start with.
2. The storage capacity
Some couples overlook this feature. We find it to be important because the more storage capacity, the more survival gears, and items you can bring with you for every journey. Make this criterion a priority if you would be camping for a longer period often.
Whether interior storage or exterior storage, as long as it can take everything you would need, it is just fine.
3. The weight of the trailer
If you do not want to bother about changing your car to a bigger one that can tow your camper, then you'd want to buy one that your present fleet can effortlessly tow.
Luckily, smaller campers recommend for couples are lightweight with the heaviest still under 3,000 lbs.
Go with any of our recommendations and you would not need to worry about this. Not forgetting to mention that there are also more advantages to going for a lightweight travel trailer which we already highlighted in a section of this article above.
4. How much space do you want?
Even though most travel trailers for couples are small and compact, some options are lightweight yet spacious. Depending on your preference, you can go for one that will give you and your partner enough floor space for fun activities.
No doubt, a spacious trailer would be more comfortable. You don't always have to sacrifice portability for space. Small trailers can too be spacious if they have included a convertible bed and sofa that can go out of the way when transformed.
5. Consider four-season RVs
Not many people go on road trips or camps during winter. But if you and your partner are looking to explore all 4 weather, you may have to narrow your selection based on this factor.
All campers aren't adapted for winter living. You would have to find one that offers durable insulation and a propane furnace that measures up with space. We have reviewed some of the best options; you may want to check them out and also check out the criteria for picking one.
Further Reading:
Conclusion | Best RV For Two Couples
Those are the best travel trailers for couples to hit the road anytime. In as much as we have tried to list the best we research, the final decision is still dependent on you.
Since this camper would be for you both, it is always better to have both of you decide on what to go for. Each partner can write down what features he/she would love to see and combine both to find which trailer offers the most of them.
We wish you good luck in picking the best for you. Since it's going to be just the two of you, don't forget to take with you everything you will need to have an engaging trip while you seek to strengthen your relationship.