Published Date: September 6, 2020
Last Updated on January 30, 2023 by Camper Front
The propane tank is very important and the most important center of any RV. From providing fuel to cook your food, to cooling your refrigerator. But if you plan on parking your RV in one spot for a long time, your internal propane tank might not last all the way.
So, you may need an external propane tank to make things easy. Hence, the need to learn how to hook up an external propane tank to the RV.
Let's get started!
How to Hook up External Propane Tank to RV
Below, you're going to learn how to hook up an external propane tank to an RV, even if you've never done it before.
Simply follow the step-by-step guide!
Read Also: What Can You Run With a 2000 Watt Generator?
Install an Extend-A-Stay Kit
The first step is to purchase a Propane-T, which is a pipe fixture that allows you to connect your RV's onboard propane regulator to an external propane tank.
Most people already have these units; it's basically a "tee" fitting in line between your coach's regulator and propane take. It has two connections; one of the connections is for connecting appliances like small grills that make use of the disposable bottle-style fitting.
This is known as the "outflow" connection since the gas flows out to the appliance. The other connection is a 1/4 inverted flared connection, which you can hook up an external propane tank.
Most of these kits come with a short 24″ hose with the 1/4″ Inverted flare and an ACME bottle style fitting.  This is known as an "inflow" connection because you would connect a bottle of propane to supply your appliances.
You can actually have both a bottle and a grill connected together with the two different fittings. Most people already have all these parts installed and hoses already. You just have to make use of them.
Run a High-Pressure Gas Line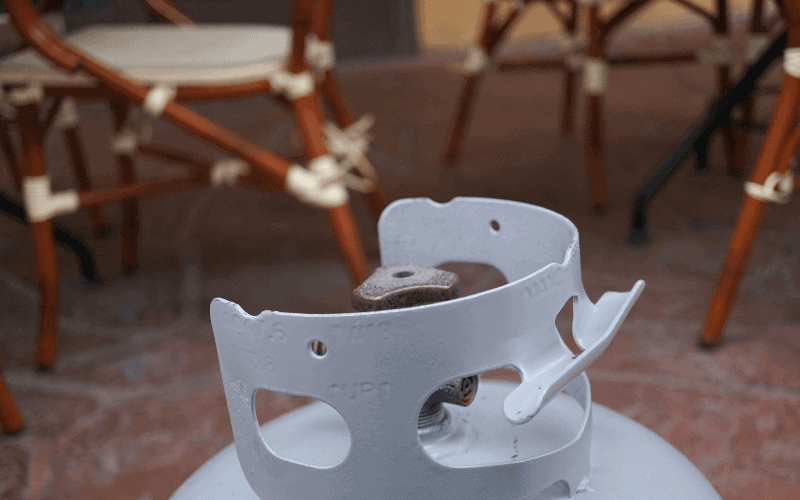 You have to check with your local propane company, but if your coach already has a regulator, and when you hook up a 100-pound bottle, that will be a high-pressure connection, so you will need a line brought to the coach.
Get the right Hoses and Fittings
To make sure everything fits in together properly, you will need to get the following hose and fittings;
25′ of gas hose with 3/8″ female flare fittings (This is pretty common, but get the length you need)
3/8″ Flare to Threaded 90 bend (Flare end into the hose and threaded end into the quick connect fitting)
1/2″ threaded Shutoff valve
1/2″ to 3/8″ Threaded reducer
3/8″ Flare to a threaded fitting
1/2″ to 1/4″ threaded reducer
1/4″ male threaded to Acme fitting reverse direction flow
The last-mentioned is the main functional fitting and might take you a while to find. There are similar fittings, but the key is the flow must run from 1/4 side to the Acme side; most similar ones run the other way.
This is usually because the hose that is at the coach will be fed as if it was connected to a propane bottle with an Acme fitting.
Read Also: 2017 Toyota Tacoma Toying Capacity
Conclusion
Although an RV is meant to be mostly mobile, there will be times when you will want to stay in one place for a long period of time.
When that happens, you want to have enough propane to last for the rest of your stay. However, the 20-pound tanks that usually come with RVs do not hold nearly enough propane to last more than a couple of days.
This is why it is important that you know how to hook up an external propane tank to the RV so that you will be able to have more than enough propane for all your needs. Fortunately, it is quite easy to connect external propane tanks to the system in your RV.
All you need is a couple of simple parts and tools. Once you have all of them, you can even do it yourself. Once you have an external propane tank hooked up to your RV, you can stay at your campsite for as long as you want.