Published Date: August 12, 2020
Last Updated on June 22, 2023 by Camper Front
RV awning helps to extend the functionality of your RV and offers you protection from elements like rain and shade from sunlight. Awnings provide several years of trouble-free operation with little maintenance.
There are different types of RV awnings, and the right one will provide many different benefits. It'll also increase the versatility and usefulness of your RV, making your camping adventure more fun.
But before purchasing an awning, it is best to explore the different options available and make sure to find out the method of installation as some types of awnings can be difficult to install than others.
Let's look at the different types of awnings available in the market.
Types Of RV Awnings
There are different types of RV awnings to choose from, they are made from different types of materials and have different functionality, each has its benefits and drawbacks, so you have to choose wisely
Slide Out Awnings
This is a simple type of RV awning that can be stored under the roof of your RV for extra protection. It is great for those who don't want a permanent shade, as the awning can be pulled out manually or by mechanical means when needed.
These types of awnings are usually made of canvas and are relatively inexpensive and easy to care for; the downside is that water tends to pool on this type of awnings, so it requires you to continually slide it out to prevent mold buildup.
Patio awnings
They are also called sheltered awnings, and are made with extra fabric that allows you to create a sunroom outside your RV, essentially a roof, walls, and a doorway for entering and exiting.
The additional space provides more than shade but an in-screened area you can actually relax in, and you also use it for storage when you park your RV.
The walls also offer extra protection against splashes during rainstorms, but the major drawback is poor ventilation, and they require more maintenance.
Fixed Awnings
The opposite of slide-out awnings is fixed awnings. They are permanently installed above your RV's door and windows, resulting in constant protection against the heat and rays of the sun and splashing of the rain.
The main downside of this RV awning type is that it can fall off while you are driving. And because they are fixed permanently to one spot, little or no changes can be made to their position.
Roller Awnings
These types of RV awnings are mounted on rollers. In the stowed position, they are rolled up tightly and stowed into a recess in the RV.
When needed, they can be pulled out manually or by a mechanical system. Most roller awnings can be extended much farther than slide-out awnings, so they offer more shelter from rain and sun. But, since they utilize more moving parts, they require more maintenance.
Automatic Awnings
Automatic RV awnings give you total control with just a simple button, making them super convenient.
They open up at just the touch of a button and save you the stress of having to deploy it manually. They are also adjustable and easy to maintain.
Some units of automatic awnings come with sensors that cause the awnings to retract if the wind level gets very high, to prevent the awnings from damage. They are very convenient.
The only downside is that they can be a bit pricey and if they eventually get damaged, repairing them is also very expensive.
Types of RV Awning Materials
There are several types of awnings materials; for better protection, you need one that is waterproof and resists wear and tear.
Vinyl awnings
Vinyl is a very waterproof effective material; it does not allow water through them and repels grime, sun, dirt, and scratches effectively.
Their major downside is that awnings made of vinyl materials tend to absorb heat so they can get really hot when you are sitting under them on a sunny day.
And they also need to be cleaned frequently to prevent mold and mildew buildup.
Acrylic awnings
These are also waterproof materials and offer several advantages, like durability and breathability. They also have better resistance against UV rays compared to other types of awning fabric.
But they tend to stretch over time, and that causes water pooling and wind flapping. They are also not very waterproof as heavy rainfall can soak through the fabric.
Aluminum Awnings
Aluminum awnings are non-porous and very hard, and that makes them super waterproof. They require little maintenance and can provide years of service while still in good shape.
However, they require more cleaning and maintenance than other types of materials.
What To Look Out For When Buying An RV Awnings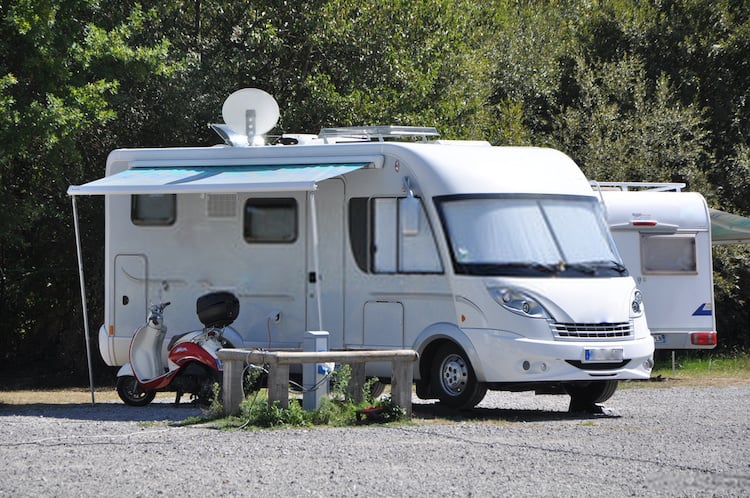 Now that we know the types of awnings and their fabrics, it is time to look at factors to consider before making the big purchase
Easy installation
The last thing you want is an awning that takes hours to install or probably requires professional help as that could rake in additional cost.
You also don't want an Awnings that comes with complicated instructions on how to install and use. So before purchasing an awning, make sure to find out the process of installation.
Size of your RV
This is actually the first thing to consider; you want to buy an awning that is precisely the size of your RV. You don't want an Awning that is either too small or too large for your vehicle. And it is easier than you think to make that type of mistake due to the number of different on the market.
So before making a purchase, ensure to measure 1/3 to 1/2 of your vehicle's length, or if you are replacing an old awning you can use that as a guide, you can also contact your manufacturer concerning this.
Conclusion
By choosing the best type of RV awning, you can have and enjoy a great camping experience while in your vehicle.
As they offer you a comfortable area to relax and hang out and also save you from harsh weather conditions. Hopefully, this article will guide you to make the right choice.