Published Date: January 13, 2023
Last Updated on October 5, 2023 by Camper Front
A pop-up toy hauler is a great product to keep at home, especially if you travel frequently and want to take your favorite adventurous toys along. Usually, due to a lack of space, you have to leave any of your favorite toys behind, which is why a pop-up toy hauler is an excellent investment.
Using a pop-up camper toy hauler, you can easily take your dirt bikes, kayaks, bicycles, ATVs, and other heavy equipment on your camping trips. You will also have extra living, sleeping, and cargo space.
In this article, we will discuss the importance of pop-up toy haulers for camping enthusiasts. We will also recommend some of the best pop-up camper toy haulers available for sale. If you don't necessarily need a pop-up hauler, we also have an article on simple toy haulers you should check out here.
About the Pop-up Toy Hauler
A pop-up toy hauler is like a tent trailer with a strong frame that helps you to haul motorcycles, boats, kayaks, ATVs, dirt bikes, or any other awesome toy on your camping trips. The overall purpose of having a pop-up camper toy hauler RV is to save your vehicle's extra towing cost, fuel, and space.
These pop-up campers are usually heavy-duty haulers with cargo carrying capacity to take your complete camping package without missing any toys. Otherwise, you leave any of your equipment back home or pay the transporter some bucks for towing services. Moreover, you also get a storage problem on long camping trips without a camper.
In addition to extra space, these toy haulers also provide living space. Most campers have at least two bunks, a kitchenette, and a dinette. Hence, it will keep you and your family comfortable throughout your outdoor experience and adventure.
Why Should You Get a Pop-up Toy Camper Hauler?
Pop-up toy campers are an excellent investment because they are helpful for a long time. They help save the costs of trailers you rent for outdoor camping equipment. Especially if you are a frequent traveler, these haulers will help you save money by minimizing travel costs. Once you get the toy hauler capabilities, you need to tow it with your truck or car and take it wherever you want.
Since they are a pop-up toy hauler, they only take up a little space. If you already have a space issue, investing in a pop-up camper might be an intelligent move.
Most pop-up toy campers have a front deck to ensure easy loading of any toy or equipment. The haulers are sturdy enough to travel through any off-road locations without interruption successfully.
If you can afford a pop-up toy camper and frequently need a travel trailer, you must invest in a pop-up camper. It will be an extremely good purchase for your camping journeys.
Best Pop-up Toy Haulers
There are several pop-up campers available on the market, so it becomes difficult for a beginner to choose one pop-up camper toy hauler. So, here are some of the best pop-up campers you can try to have a fantastic camping experience.
If you want to carry heavy toys on your camping trip but lack space, the Jumping jack might be a great solution. Their Mid 6×12 utility trailer has a vast space camper that can carry your 3 to 4 ATVs or three motorbikes, or even quad bikes. This toy hauler gives you an 8′ big tent with excellent amenities and features.
It has a powder-coated frame that ensures high durability, strength, and resistance to challenging camping environments. Eight adults can easily sleep in this huge tent. The price range differs according to the specifications per your preferences.
There is around 6 feet wide space in the front deck storage which you can use for toy storage and cargo other goods. The front gate offers easy loading and unloading of your equipment and toys.
All-in-all, the Jumping Jack toy hauler is an excellent choice as it provides a pop-up camper that you can use whenever extra sleeping space is required. It is an ideal camper toy hauler for hunters.
Forest River Flagstaff pop-up camper provides a vast 9 feet wide cargo space. The space is enough for two beds, a folding dinette, a bath, an exterior storage space, and a front deck storage space.
You can easily carry all your toys and goods without worrying about living space. Since it is strong-built, it can easily endure off-roading experiences with you. The Forest River Flagstaff is perfect if you often face interior living space and toy space issues on your trips.
If you need an average space for carrying a controlled weight of your toys while having extra sleeping space, Coachmen Viking V-Trec V3 might be an excellent choice. Unlike other pop-up toy campers, the Viking V-Trec does not provide exterior storage space. However, there is still enough storage space available inside the hauler.
There are two substantial queen-sized beds in the toy hauler, a kitchenette, a dinette, a bath, and a sitting area. You will find all the necessary amenities in this camper. So, it is worth buying the Viking V-Trec V3 pop-up toy hauler if it suits your budget and requirements.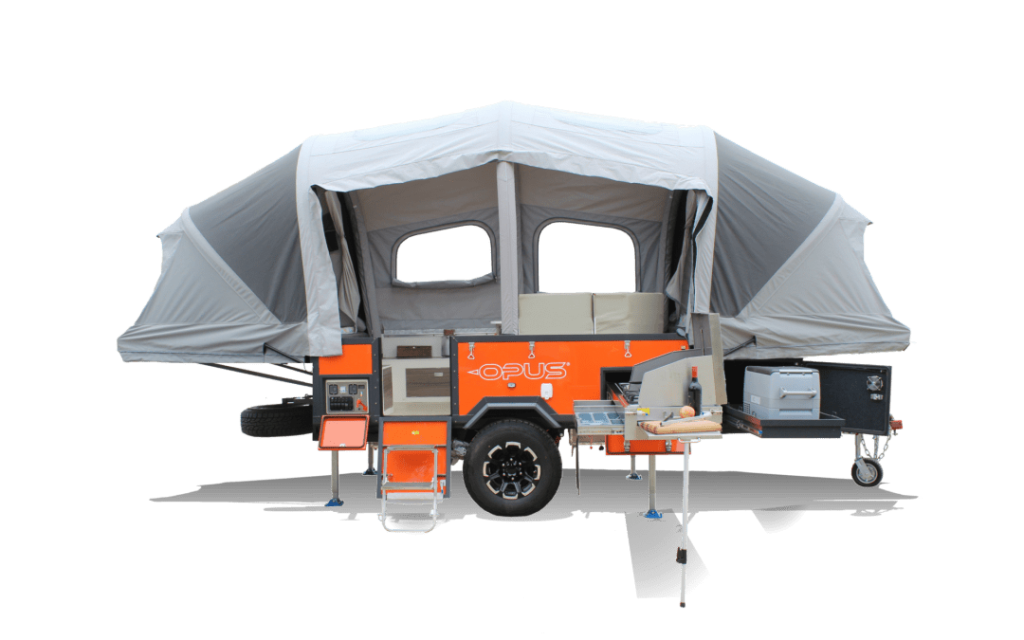 The OP4 by OPUS Campers is one of the most advanced and useful pop-up toy campers you will find on the market. It is a relatively small-sized toy hauler that can carry up to 500 pounds. So, it might not be able to carry your heavy ATVs, but it will take smaller toys and equipment efficiently.
OP4 has a luxurious interior that helps uplift your mood even when you live in a remote area. The easy-to-pop-up camper will only take 90 seconds to set up your sleeping space. Six people can be easily accommodated inside the camper. The camper also has a stovetop, cooler, batteries, and water tank.
Moreover, a strong cargo rack can hold your toys and outdoor equipment. We recommend you try it and get an enjoyable experience with your whole family.
Why Are Pop-up Toy Haulers Expensive?
Pop-up toy haulers typically range from $7000 to $30,000, a hefty amount to spend on a hauler. But you should think of it as an investment because these toy haulers will last you more than a decade, and they will help save your tow costs. They are the best short-term choice for you if you cannot afford an RV.
Compared to the prices of RVs, toy haulers are affordable, considering their usage. Once you buy your pop-up toy hauler, you will never have space issues while hopping onto your new outdoor experience.
Moreover, these haulers are made of heavy-duty material that does not damage with time. Their quality is fantastic, so they can resist difficult outdoor situations.
The pop-up toy haulers provide a living space for the whole family, so you do not have to rent an extra car or truck to accommodate everyone. Hence, pop-up toy haulers are expensive due to their usability and durability. You should also save money and spend on these toy haulers if you love outdoor life.
Frequently Asked Questions
1. Who should not get a pop-up camper toy hauler?
A pop-up toy hauler is not for anyone who is a once-in-a-blue-moon kind of camper. Thus, for such trips, you can pay a towing service to take your equipment to the location. However, if you are a regular camper and often go on camping trips with your family, get a good-quality pop-up camper.
2. Should I get an RV or a hauler?
The answer to this question entirely depends upon your budget. If you have enough money and are also a frequent camper, you should get an RV. However, if you can barely meet the ends and are not a regular camper, then getting a hauler (new or on rent) is better.
3. Are pop-up campers worth it?
Yes, pop-up campers are a great invention as they are foldable and do not take up too much space in your garage. They are easy to set up and take along your road or camping trips. They can accommodate more than four people at a time, which provides an impeccable sleeping space for your family. Moreover, these campers have a vast storage capacity so that you can easily store heavy and bulky equipment.
Conclusion
Pop-up toy campers are a great way to pack your whole life and enjoy off-roading with your loved ones. They provide comfortable seating and sleeping space while storing all the gear and toys. By using pop-up campers, you can pay for towing services or rented cars.
These pop-up toy haulers are a must-have for families who frequently travel in outdoor spaces. This article discussed the importance of a pop-up toy hauler and shared some fantastic haulers available on the market. You must consider our recommendation if you are on the hunt to find good-quality pop-up campers. Happy off-roading!