Published Date: July 4, 2022
Last Updated on June 22, 2023 by Camper Front
One of the most important preparations for any successful RV camping trip is ensuring you always have a supply of clean water. One of the ways you can accomplish this is by ensuring you carry clean drinking water in your RV fresh water tank when you leave home. However, this may not always be enough and greatly limits how much water you can use.
This is where RV water filters come in, but selecting the best RV water filter is a big decision. These reverse osmosis units will filter any unsafe water you find on your expeditions and give you instant fresh water that's ready to drink. Moreover, they get rid of harmful bacteria, heavy sediment, and metals to give you a fresh water supply that rivals bottled water. If you are planning on getting a reliable and efficient inline filter, here are five of the best RV water filter systems available today. 
Camco TastePure RV Water Filter
The Camco TastePure inline filter is one of the finest sediment pre-filters available today that will ensure you get a continuous supply of clean drinking water. It not only removes large sediment particles but also gets rid of pathogens and bacteria, making it one of the best RV water filter options available. Furthermore, it enhances the water's taste by removing the chlorine taste and any bad odors. What's more, you get to enjoy all these benefits at almost no cost since it's a highly affordable unit. 
Review
The Camco TastePure filter uses a carbon filter that is designed to serve you for weeks or even months of camping. It has a large filtration capacity that lasts for about three months while maintaining excellent filtration capabilities and preserving your water taste. 
When it comes to versatility, this sediment filter is one of the best RV water filter choices in offering multiple uses. It is compatible with most water hoses and comes with a flexible water hose protector. This means you can easily attach it to your RV, use it for gardening, or take it with you on your boat trip. 
The filtration capabilities of the Camco RV filtration system are where this filter shines best. For starters, it filters out anything that is over 20 microns in size. This means that all impurities, from bacteria to larger particles such as sediments, will not pass through. Secondly, this filter gets rid of heavy metals such as lead, cadmium, iron, and mercury. Chemicals such as hydrogen sulfide that cause bad taste and odor in water also get filtered out. Organic compounds, too, don't stand a chance and will be removed, making this one of the best RV water filter systems on the market. 
By the end of this comprehensive water filtration, you can be sure you will have the best and safest water for drinking. Another top feature worth noting is that this filter uses KDF and GAC filters to ensure that no mold, fungi, or bacteria flourish inside it during storage. 
The only downside of this product is that the plastic housing of the filter is not strong and can break when used for vigorous activities such as spraying your car. The plastic encasing may also wear out over time. 
Pros
Easy and quick installation

High flow rate due to wide-body design

Filters out sediments, chemicals, and heavy metals

Gets rid of pathogens

Highly durable carbon filters
Con
The plastic housing is susceptible to breakage
AQUA CREST RV Water Filter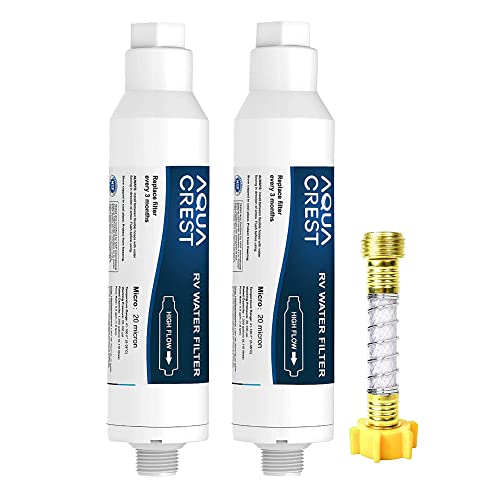 AQUA CREST is a company that prides itself on providing high-quality products. Its reputation has given it a large following of thousands of people who trust its products, and this AQUA CREST RV Water Filter does not fall short. To begin with, this filter is NSF certified and undergoes testing by third parties to ensure that it lives up to its claims. As you can see, AQUA CREST has done everything it can to make sure they do not compromise on the quality of its products as they make some of the best RV water filter products available. 
Review
The main highlight of this filter is its quality assurance. It undergoes triple testing aimed at various aspects of its performance. For starters, third-party labs conduct tests on how the filter affects the water pressure, and you will be glad to know that it excels in that area. This inline filter is capable of carrying out the filtration of the water even when exposed to an impressive water pressure of 400 PSI. 
On filtration, the RV filter removes most corrosive and harmful substances starting with sediments and heavy metals such as cadmium, mercury, iron, and lead. As such, the granular carbon filters are not only great for filtering city water but can also filter water from any fresh water source at your camping site. 
You will also enjoy tasty and refreshing drinking water as the filter eliminates unpleasant tastes, thus improving the water quality greatly. 
The filter comes with a hose protector that can be rotated 360 degrees for improved flexibility. Moreover, there are two copper heads on both ends that are rust-proof and the lower side includes a silicon gasket to minimize any chances of breakages and water leakages. 
Another feature you will love about this filter is its ergonomic design. The design allows you to quickly install it using your hands without the need for any tools. It takes a quick five minutes or less to complete the installation. 
If you've been looking for a durable carbon filter, then you'll be happy to know that this reliable unit will serve you for at least three months, which is part of the reason it is one of the best RV water filter units available. This makes it ideal for camping or other activities that require gallons of clean water, such as gardening and car washing. 
One thing that you should be cautious about when using this filter is that it uses a coconut shell carbon block. Therefore, if you are allergic to coconut, it may cause a reaction. 
Pros
Tried and tested filter

Easy and quick to install

Long service life – will last for many years

Offers hose protection
Con
Unfit for people allergic to coconut or coconut shells
RVGUARD Inline Water Filter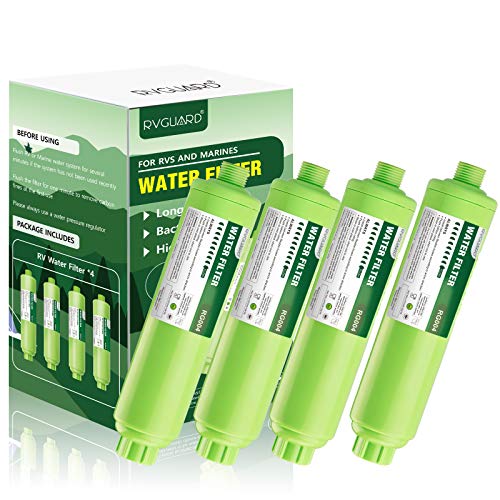 If you've been searching for the best RV water filter systems that can filter enough gallons of water to fill your RV fresh water tank with clean water, then RVGUARD has got you covered. This filter has an impressive water flow rate of 0.5 GPM and can filter up to 15,000 gallons of water. So, whether you need to filter tap water or water from other untreated water sources, you can be sure this filter will meet all your purification needs. 
Review
Since its inception, RVGUARD has strived to deliver high-quality RV products and accessories. As frontiers in the industry, they perfected the RV water filtration systems of their purifiers to ensure they can handle unsafe water from any water source. These reverse osmosis units use four filtration methods to clear any unsafe water of heavy sediment and debris, chemicals, and heavy metals.
In these stages of filtration, water goes through a metal filter in the first step. Here, the sediment filter removes silt, stones, heavy metals, and other compounds such as arsenic and fluoride. Next, the KDF55 filter further entraps any remains of heavy metals, hydrogen sulfide, and chlorine. 
The activated carbon uses carbon filtration to get rid of unpleasant odors and any traces of chlorine taste in the water. Finally, the sponge in the last part only lets clear, healthy drinking water through. 
When using this filter for the first time, you will notice carbon being washed out. Let the water run until the extra carbon clears out of the system. 
Once you start using this filter, make sure you replace the filter cartridges after three months or after filtering about 15,000 gallons. This helps ensure the filter continues purifying dirty water at optimal efficiency and producing clean, tasty water. 
The RVGUARD filters can be used in a wide variety of tasks, including camping, gardening, farming, and marine activities, among others. 
These filters for RVs can operate under 34-110F and should be exposed to a maximum water pressure of 60 psi. Exerting higher levels of water pressure can damage them. 
Pros
NSF certified for health and peace of mind

Gets rid of odors and bad water taste

An excellent filter for long-term use

Ideal for filtering chlorinated water

Compatible with all standard hoses
Con
Does not withstand high water pressure
GLACIER FRESH RV Water Filter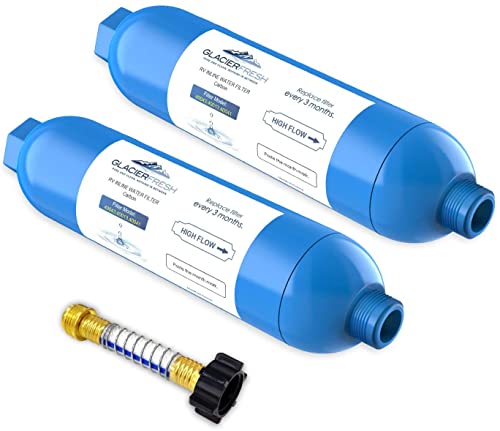 If you are willing to pay more to get better quality, then this is the best RV water filter and it is an excellent choice. Although it costs a bit more than other standard filters, it gives excellent value for money. For starters, it uses food-grade plastic with high tensile strength. It is also a versatile unit that can be employed differently and filters water effectively to give you pure, tasty water. 
Review
The Glacier Fresh filter is one of the most effective chlorine taste filters that remove up to 97.9% of chlorine taste. Its 20-micron filter also gets rid of harmful bacteria and other pathogenic organisms. You'll be happy to know that this filter is tried and tested by independent parties to ensure that it meets high-quality standards. 
This premium filter includes a multi-stage filtration process where the first layer mainly removes sand and other large particles. The Kinetic Degradation Fluxion or KDF layer stops any rust and chlorine particles. It also clears any elements that make the water cloudy. 
Next, you have an advanced filtration layer that mainly filters out fluoride, which stains and degrades teeth. It is also here where heavy metals like lead are removed. Eventually, the purified water undergoes bad taste and odor filtration in the granulated carbon layer. The final result is clear, tasty water that is ready to drink. 
This versatile RV filter can be used for more than just camping activities. For starters, you can use it as a filter for your kitchen under the sink filtration system. You can also connect it to any standard garden hose and use it for watering your plants. Alternatively, you can use it to purify water that you use to wash your pets or car and prevent staining from impurities. It is also a great choice for anyone looking for a filter to take with them on boat trips or for filtering enough gallons of water to fill a swimming pool. 
This filter will easily last you for three months due to its large filtration capacity. Moreover, it's made from high-quality plastic, which minimizes any cracks or breakages. The plastic can also hold up even in strenuous connections. However, to ease the connection procedure and reduce kinking, this filter can rotate 360 degrees and has an anti-kink hose protector.
Even with all these features, one downside worth noting is that this inline filter greatly affects your water pressure and flow rate. 
Pros
High-grade plastic will last for years

Offers multiple uses

Uses four-stage filtration for best results

Large filtration capacity

Excellent chlorine taste remover
Con
Affects water pressure and flow rate
Waterdrop RV Inline Water Filter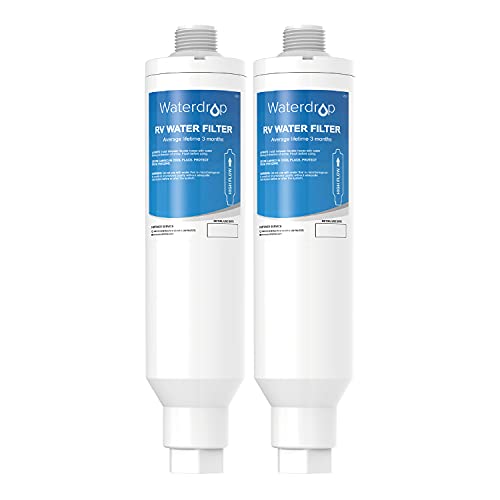 Since its establishment in 2015, Waterdrop has quickly risen to become one of the leading manufacturers of water purifiers and this is one of the best RV water filter manufacturers. This is mainly due to their intense research and development, which helps them create practical and functional products. Their RV inline water filter was also designed to meet all your filtration needs. This filter is made from products with multiple certifications, including NSF, UPC, WQA, CSA, UL, and WARS certifications. It has undergone FCC tests.
Review
This professional RV filter undergoes one of the most intense testing processes. It is exposed to 10 times more water pressure tests and also undergoes a 100,000-pulse test. The filter is further taken through a 400-psi pressure test to confirm that it can withstand high water pressure without bursting or leaking. All these aspects mean you will get a high-quality product in your home when you buy this best RV water filter.
Its filtration capabilities are also impressive. It gets rid of more than 20 impurities and harmful substances. Some of these impurities include rust, sediments, and suspended solids which are filtered out in the first stage. Heavy metals such as cadmium and lead are also removed in the next filtration stage. Moreover, the filter clears out an impressive 97.6% of chlorine. 
Is your tap water cloudy, tastes bad, and sometimes has odors? Worry no more because this filter will remove all these bad qualities and give you clear, tasty, refreshing water.
If you've been looking for a filter that is compatible with all your standard hoses and water outlets, then it's an ideal option for you. It will fit any standard flexible hose, including your RV, gardening, and kitchen faucets. 
The filter is also easy to install and the process takes just five minutes or less. You will also do it using your hands with no need for extra tools. 
Waterdrop's inline filter will last you for at least three months and allow you to enjoy your outdoor experience fully. The filter is also BPA-free; no materials will leach into the water, affecting its taste or quality.
While this is one of the best RV water filter options available, the only downside of this filter is that the hose protector is weak and can easily break or come apart.  
Pros
Compatible with all standard hoses

Made from food-grade BPA-free materials

Subjected to extensive testing to ensure it meets high-quality standards

Easy to install, even with no prior knowledge

Removes bad odors, cloudiness, and bad taste
Con
Poor quality hose protector
Conclusion
If you are looking for inexpensive but high-quality inline water filters that will get the job done, then you should try the Camco TastePure and Aqua Crest RV water filters. These are some of the best RV water filter options that come at very low prices but easily remove all contaminants without affecting your water pressure.
If cloudy water, chlorine, and bad odors are the main culprits of your tap water, then the RVGUARD, Glacier Fresh, and Waterdrop filters are your best bet. Moreover, these filters are great as they are BPA-free. All the filters reviewed above are compatible with standard hoses, and each one of them has undergone third-party testing. They are NSF certified and very easy to install.