Published Date: April 29, 2021
Last Updated on March 23, 2023 by Camper Front
The Chevy Silverado 1500 is one of the most popular vehicles on the road and is mostly used for towing. But what size camper can a chevy 1500 pull?
To put it succinctly, a Chevy 1500 truck has a maximum towing capacity of between 6,700 lbs to 12,200 lbs size campers.
If your travel trailer is on the heavier side, we also recommend you get a weight distribution hitch for improved sway control and easier towing when on the road.
To make things simple, if your travel trailer weighs 1.5 times your tow vehicle or more, it is recommended to get a weight distribution hitch.
Regardless of what the 1500 vehicle can do, we know that exceeding the maximum vehicle towing capacity is HIGHLY prohibited, as it could lead to more strain on the engine and transmission, accelerated brake wear, damage to the tires (regardless of whether you have a weight distribution hitch installed for your travel trailer, or not) – and it can even trigger catastrophic failure while driving that could lead to a fatal accident.
This is why you need to always stick to going slightly below your vehicle's maximum towing capacity and pay close attention to the final loaded trailer weight which includes everything – from the weight of the additional cargo and appliances stored in the trailer to the tongue weight of the travel trailer.
Apart from the Chevy 1500, there are also other Chevy camper models and we will also look at their various towing capacities here.
Let's get started!
What Size Camper Can A Chevy 1500 Pull?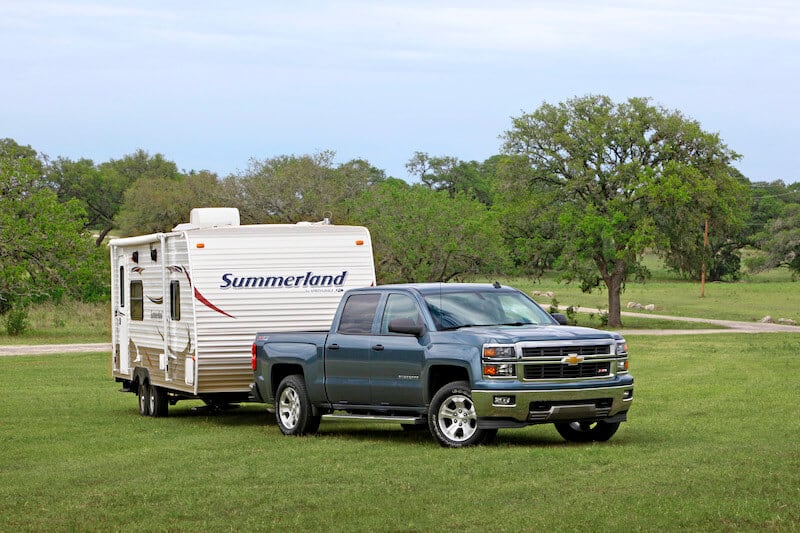 For the 2019 model year of the Chevy Silverado 1500, here are the official towing capacity rating ranges for each model:
1500: 6,700 lbs to 12,200 lbs towing capacity
2500HD: 9,400 lbs to 18,100 lbs towing capacity
3500HD: 8,800 lbs to 23,300 lbs towing capacity
Even if the 6.2L V8 is your engine type, endeavor to read to the end as you might pick up a few things.
Now that's out of the way, let's take a moment to give credit where credit is due.
What I'm about to tell you might sound questionable. 
But most frequent travelers and road adventurers who have used the 1500 model to pull their travel trailer to their favorite park have testified time and again that this particular SUV is among the highest-rated half-ton trucks for towing travel trailers on the market.
Even if Chevy's Silverado 1500 is not as advanced as other top monstrous travel trailers like the Ford F-150 and Ram 1500, it is still a highly configurable and impressively proficient pickup.
You'll be able to pull it with confidence, yet it is lightweight and quite affordable. 
However, the question is can a 1500 pull a camper? If yes, what size travel trailer can a chevy 1500 pull?
Firstly, of course, Chevy Silverado 1500 can tow or pull a travel trailer but it depends on the RV. 
Since the highest towing capacity of the Chevy 1500 is up to 13,400 lbs, the best travel trailers for a towing experience that won't give you a headache are Coachmen Freedom Express, Airstream Flying Cloud, and Cruiser 2450RK.
Also, have it at the back of your mind that the Chevy Silverado maximum towing capacity depends solely on its engine and there are five options. Let's discuss what type your truck has, as well as other basic specs below.
Type of Chevy Engine (Their Horsepower + Towing Capacity)
Chevy 1500 2.7L Turbo: This one offers approximately 310 horsepower and 348 lb-ft of torque. The 2.7L Turbo engine is capable of pulling a trailer up to 7,000 lbs. It is the lowest pulling power. 
Chevy 1500 3.0L V6 Turbo Diesel: With this engine, your SUV has 260 horsepower, 460 lb-ft of torque, as well as a maximum towing capacity of about 9,400 lbs.
Chevy 1500 4.3L V6: The 4.3L V6 Engine is third in line with the towing capacity of about 7,900 lbs of weight, along with 285 horsepower and 305 lb-ft of torque.
Chevy 1500 5.3L V8: This option of Silverado 1500 is capable of producing 355 horsepower, 383 lb-ft of torque, and a maximum towing capacity whopping 11,600 lbs of weight –a bit higher than the latter.
Chevy 1500 6.2L V8: Lastly, we have the greatest of them all –the 6.2L V8 engine. It is capable of generating an exceptional 420 horsepower and 460 lb-ft of torque. The maximum towing capacity is also impressive, as it can pull a travel trailer up to 13,400 lbs of weight.
Factors That Affect What Size Camper a Chevy 1500 Can Pull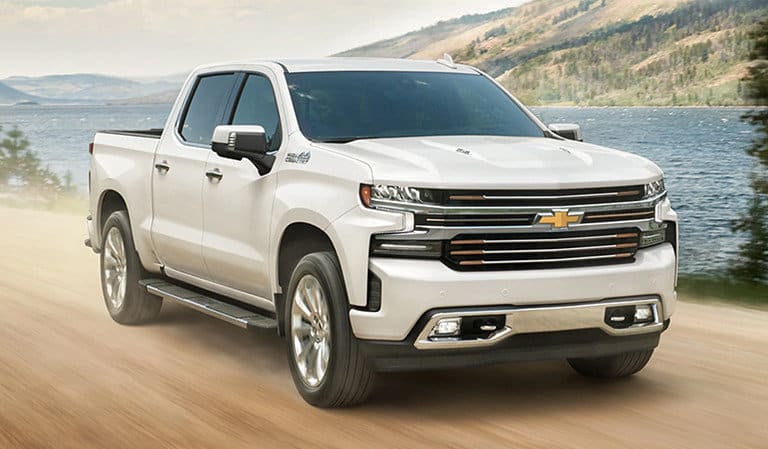 A lot of different factors affect a truck's official tow rating. Even trucks with the exact same model, cab configuration, and trim level can come with different tow ratings.
Factors such as 4WD, axle ratios, and even various options are fitted to a truck and they can all impact that truck's rating.
So the surest way to know the actual rating of your truck is by locating the sticker on the driver's door jamb that indicates the towing limits for that truck.
1. Engine
A truck's powertrain is the most important factor that determines its towing capacity. A truck's engine and transmission combine together to produce horsepower and torque.
These are the biggest determining factors of how much weight a truck can pull. The Chevy Silverado 1500 has three different engines option:
4.3-litre ECOTEC3 V6 MODEL
285 horsepower / 305 lb-ft of torque
Hyrda-Matic 6-speed automatic transmission
Maximum Towing Capacity: 7,600 pounds
5.3-litre ECOTEC3 V8 MODEL
355 horsepower / 383 lb-ft of torque
Hyrda-Matic 6-speed automatic transmission or Hyrda-Matic 8-speed automatic transmission
Maximum Towing Capacity: 9,800 pounds (without Max. Trailering Package)
6.2-litre ECOTEC3 V8 MODEL
420 horsepower / 460 lb-ft of torque
Hyrda-Matic 8-speed automatic transmission
Maximum Towing Capacity: 9,400 pounds (without Max. Trailering Package)
However, not all Chevy Silverado 1500 models have the same engine and transmission that produce the same amount of horsepower and torque and can tow the same amount and this is because of the overall weight of the truck (truck cab and other equipment), as well as the truck's axle.
This is due to the fact that the horsepower and torque a truck produces have a maximum amount of work which is the towing capacity it can carry out, this amount of work changes according to the truck's weight. This means that if you have a heavier truck, it will be more difficult to pull it.
The weight of a truck is determined by the size of the truck cab as well as the other equipment placed in the truck.
Also, trucks that are equipped with four-wheel drive tend to have lower towing capacity than two-wheel-drive trucks and the difference is usually less than a couple hundred pounds.
This is because of the extra equipment that is needed to transfer torque to all four wheels, in other words, the four-wheel-drive equipment adds extra weight to the truck, and this extra weight reduces the amount of weight a truck can tow.
The same rule applies to other gears that may be installed in a truck-like audio system, seating materials, and interior features.
2. Axle Ratio
Apart from the power an engine produces, a truck's axle also affects the towing capacity of a truck. This means that the higher axle ratios deliver more torque to the wheels, which increases the pulling power of a truck.
However, higher axle ratios also decrease a vehicle's fuel economy, which makes it important to determine how much pulling power you actually need from your truck to haul your travel trailer.
The Chevy Silverado 1500  has a few different available options.
The standard axle ratios include a 3.08, 3.23, 3.42, and 6.2-liter V8 model and 5.3-liter V6 model engines which are both available with the Max model. Trailering Package that includes a 3.73 axle ratio.
When the Silverado 1500 has a 5.3L and the Max. Trailering Package is able to increase the towing capacity of up to 11,000 pounds of pure pulling power (1,700 pounds more than the standard max towing capacity) and while the Chevy 1500 is equipped with a 6.2L model and the Max.
Trailering Package increases the maximum towing capacity up to 12,500 pounds (3,100 pounds more than the standard max towing capacity).
Conclusion: What Size Camper Can a Chevy 1500 Pull?
So now you that know the answer to what size camper can a Chevy 1500 pull, I hope you won't go overboard and get a 15,000-pound+ travel trailer from the RV dealership. 
Mind you, it is crucial to mention the horsepower as well as the torque because knowing your vehicle's towing capacity is only essential to towing safety, plus it can keep you from damaging your vehicle with the burden of towing an overweight load.
However, the horsepower determines the work potential of the engine. 
And if yours has vigorous horsepower then it has better acceleration, which is a significant factor in your car's overall performance and weight limit and towing capacity when pulling a trailer.
Just know the higher the horsepower the stronger and the faster the speed.
Torque, on the other hand, plays a critical role in generating power from a car's engine, as it represents the load it can handle to generate a certain amount of power to rotate the engine on its axis.
You Might Also Be Interested In: