Published Date: March 12, 2021
Last Updated on January 19, 2023 by Camper Front
If you have got a ½ ton truck and looking for the best half-ton towable RVs that would match the towing capacity of your truck, we have selected some and made unbiased reviews of the best travel trailers for 1/2-ton trucks.
If you are an RV enthusiast, it is important to always find an RV that would match the towing capacity of your SUV or truck. Trust me, you don't want to be caught up in the woods trying to drag a trailer that is too heavy for your half-ton truck.
No doubt, if you have a half-ton truck, your option of travel trailers may be limited. It may be difficult to find that perfect one with all amenities that you desire.
However, for adventurers with a good budget, you would find one that would match your taste. As usual, half-ton towable RVs could also be modified to feature your preferred amenities without increasing the net weight.
How Big Of A Travel Trailer Can A Half-Ton Truck Pull?
The most important thing that should come to mind when buying a half-ton towable travel trailer that can match your truck would be the overall weight.
Though half-ton trucks of different brands with the same rating would perform differently, under normal circumstances, for a half-ton truck, the range of the travel trailer would be between 9,000 to 10,000 pounds.
Many stringer brands would tow heavier RVs of 10,000 pounds or more. For example, modern half-ton trucks like the 2020 Ford F-150 and 2020 Chevrolet Silverado/GMC Sierra 1500 would tow up to 13,200 pounds and 12,100 pounds respectively.
Whether you have one of these modern half-ton trucks or the old models with lesser strength, your present half-ton truck would conveniently pull the options listed here since we ensured that the maximum GVWR (gross vehicle weight rating) did not exceed 10,000 pounds of maximum loaded weight.
Best Travel Trailers For 1/2 Ton Trucks
Below are the best lightweight travel trailers for 1/2-ton trucks that we think you should really check out if you own a 1/2-ton truck.
1. Flagstaff Super Lite 524LWS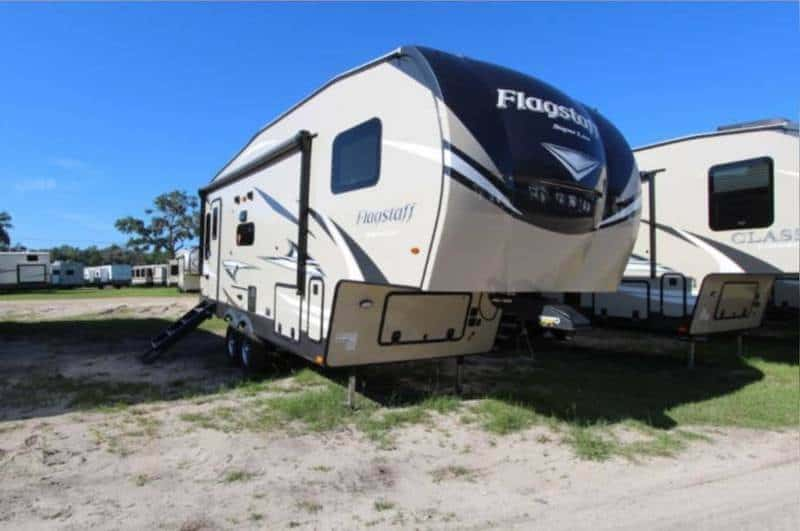 If you love a spacious interior, there wouldn't be a better half-ton option than this travel trailer.
For its size, one would have thought that this travel trailer is going to weigh too much. But that is not the case here, Flagstaff only weighs 9,165 pounds. This is credited to the lightweight aluminum body construction with fiberglass sidewalls.
However, this weight may not be convenient for some old-model, half-ton trucks. But this is still in rage if you have got any of the Silverado, Sierra, or the highest trim level of the Toyota Tundra.
The floor plan is well-designed such that the living room, kitchen, and bedroom all flow together nicely.
Now let's have a look at the interior's features.
Inside this RV are an HD flat-screen TV, cooker, microwave, large sofa that pulls out to a double size bed, sufficient cabinets for storage, fridge, and freezer, just to mention a few.
The bedroom is an all-ensuite with a toilet, bathroom, storage cabinets, and a TV. With Flagstaff, you would never miss home.
Pros
The bedroom has two-door access and an exit
Sufficient space for more activities
Can sleep up to 4 persons and more
Sufficient storage space
Cons
Not all half-ton trucks would tow this unit effortlessly
The bedroom is only accessed through the bathroom from inside the unit
2. Forest River Arctic Wolf 285DRL4
If there is one thing we love about this RV, it is the balance. Probably this is because it has got a good auto-leveling mechanism for balancing.
Again, we consider this travel trailer to be towable only with the modern half-ton trucks because it has got a 9,800-pound gross vehicle weight rating.
Of course, the aluminum body construction and fiberglass sidewalls are expected to cut down on the overall weight, but this camper is loaded with amenities and features to make your adventure away from home always memorable.
Forest River Arctic can sleep 4 persons. There is a private room with a queen-size bed, a sofa that can be adjusted to sleep 2 persons, and a separate sofa with heating and massage features. There is also 4 personal dinette, and all are well-positioned to conserve space.
Right from the exterior to the interior, there are storage spaces – would not leave behind any of your favorite camping gear.
Pros
Automatic adjustable bed for different positions
Fully functional kitchen and comes with a residential refrigerator
Theater seating with power massage
It can sleep four persons without compromise
Slide-outside feature maximizes the space
Cons
Not all half-ton trucks would effortlessly tow this unit. However, this is a match with the Toyota Tundra and the Ford F-150 Eco-boost.
3. Rockwood Ultra Lite 2441WS
Almost the same size as the previous two above, but it weighs far less. We are sure your present truck would tow this camper with no hassle. It has a net weight of 7,149 pounds.
Despite this weight and size as compared to the previous, this camper sleeps 6 persons, making it perfect for a family adventure.
It is made from aluminum and fiberglass which helps reduce the weight of the RV, thus putting it within the range that most popular half-ton pickup trucks would pull effortlessly.
There aren't many features to be crazy about, but this unit will certainly make your adventure awesome.
There is a TV, dinette, convertible sofa bed that sleeps 2 persons, and an all-ensuite bedroom with a wall drop and a queen-size bed. The bathroom can be accessed from the bedroom and through the corridor.
There are all internal features common with other half-ton towable travel trailers and include a TV, refrigerator, microwave, cooker and oven, and more.
Pros
Lots of interior and exterior storage space
Sufficient headspace
Lightweight enough for a half-ton truck
Sleeps more persons
Cons
There are no noticeable cons with this camper
4. Escape 5.0TA Fifth Wheel
So we thought to include a camper that just any half-ton trailer would tow, and in fact, any SUV would pull without any drag.
So if you are not sure about the capability of your present truck, we are sure that this camper wouldn't be disappointing. Why do we say so? The Escape 5.0TA Fifth Wheel only weighs 5,500 pounds.
Certainly, for such a lightweight, you wouldn't expect a large and spacious camper compared to others.
There are lots of windows that add lights to the closure. Escape 5.0TA has all amenities that any adventurer would love to see in a camper. Some of the features worth mentioning are the TV, the cook, the oven, the microwave, the dinette, etc.
If you just need a unit for you and your partner, you should probably consider this because it has the capacity just for two people.
Even with the size, the RV has got lots of storage space, including bike racks at the back – so no excuse to leave anything behind.
Pros
Sufficient storage spaces
Any SUV or half-ton truck would tow this RV
Aerodynamics fiberglass exterior shell construction
Best option to travel light and small
The unit is affordable
Cons
It is a small unit, so may not accommodate more persons
High bed position, may not be easy to access especially for elderly
5. Palomino Puma 255RKS Fifth Wheel
Palomino has tried to keep this camper as light as possible without compromising on any of the amenities. The RV weighs 8,800 pounds, setting it in the range of towable by any half-ton truck and SUV.
How are they able to maintain this weight? Palomino uses a lot of lightweight wood for the body material and frame of the travel trailer. They also use lightweight aluminum for the sides.
Whether you own a new or old model truck, you should have no difficulties pulling this cabin.
We love the floor plan, are we are sure you would too. The position of the sleeping area, kitchen, dinette, and bathroom ensures that all activities indoors flow altogether to make sufficient space. Did we forget to mention that the dinette slides in and out to make more space?
The first thing you would notice is the numerous storage spaces, both outside the RV and with the inner cabinets. This travel trailer has got everything to ensure that your camping experience is worth it.
Pros
Made with lightweight and durable materials
Can be towed with any type, model, and aged

half-ton towable

truck
Comes with lots of storage spaces
The sliding dinette makes room for more space
Cons
Sleeps just two persons because of the absence of a convertible sofa
Factors To Consider When Buying A Travel Trailer For Half Ton Truck
The payload capacity of your truck
Your vehicle's payload capacity is simply your truck's cargo weight capacity, without including the weight of the vehicle itself.
So if you have very low payload capacity, then you may need to put that extra cargo into your travel trailer, which will in turn limit your vehicle's towing capacity.
In short, It will add more to your expenses if after purchasing your half-ton towable travel trailer, you find out that your present truck cannot tow it.
Yes, this happens.
We understand that you have bought one that is within the towing capacity of a half-ton as advertised, but unfortunately, you still experience unnecessary drags with some half-ton trucks.
Many factors can result in this, but the majority of the cases are traced to the model and age of the truck.
Old-model half-ton trucks cannot measure up to the new models. So even if your half-ton towable trailer is rated under 10,000 GVWR, you may still find it difficult to pull it with your old truck.
This is why you must ensure that if you have an old model half-ton truck, you should opt for a lightweight half-ton towable travel trailer so you don't reach too close to/exceed the payload capacity of your tow vehicle. Anything under a 6,000 gross vehicle weight rating would be a great choice.
On the contrary, we have initially stated that these new-model, half-ton trucks, would effortlessly pull travel trailers as heavy as 13,200 pounds. Here you actually get a boost in payload capacity, however, we don't recommend you test how much weight you can get away with towing.
The capacity of the
travel

trailer

Most half-ton trucks and SUVs may only tow travel trailers that sleep 2 persons at maximum. It is almost certain that there would be an increase in the trailer's GVWR with an increase in the number of persons that the travel trailer would sleep. This also will increase the size of the camper.

However, there are few options for lightweight and small travel trailers with large capacities. For the majority of them, this is achieved by engineering a sliding dinette or installing convertible sofa beds.

So whatever your preference is, whether you need a large family-size travel trailer or a moderate one, there are options to choose from that will match your present half-ton truck.
Frequently Asked Questions
Can a 1/2 ton pull a travel trailer?
A 1/2-ton truck can pull anything within its towing capacity. So if you are wondering if a 1/2-ton truck would pull a travel trailer, it all depends on the weight of the trailer.
You should always compare the GVWR of the travel trailer to the capacity of your truck. There are good options for half-ton towable travel trailers available for any type of truck you have got.
Will Towing A Fifth Wheel Camper Hurt My Gas Mileage?
This isn't only associated with towing travel trailers, generally, towing anything with your truck will affect the mileage.
After towing a heavy travel camper like the ones mentioned here, you will notice a dip in your truck's overall MPH.
While this is unavoidable, with proper maintenance, good fuel octane rating, and adequate servicing, this will improve to some reasonable level.
We also do not encourage pushing your truck near the limit of its towing capacity.
Do I Need A Special Hitch To Tow A Fifth Wheel Camper With A Half-Ton Truck?
Having a half-ton towable truck does not automatically qualify you to tow a travel trailer. You would need a hitch installed and connected to the camper.
Unfortunately, this is not what you can do with a DIY skill. It requires the services of a professional.
One thing that you should take into consideration is that hitch itself is heavy. Some can weigh as much as 100 pounds, so this eventually adds to the weight that your half-ton truck would tow.
What is a Gross Vehicle Weight Rating (GVWR)?
Gross Vehicle Weight Rating is the total maximum weight allowed for your tow vehicle or travel trailer to carry (individually) as determined by the manufacturer.
This includes both the cargo (passengers, food, water, supplies, fuel, etc.) and the weight of the towable trailer/tow vehicle.
What is a Gross Combined Weight Rating (GCWR)?
Gross Combined Weight Rating is the total combined load capacity of your tow vehicle and travel trailer that is determined by the manufacturer. This capacity includes the weight of both vehicles and all additional cargo.
GCWR shouldn't be confused with the gross vehicle weight rating (GVWR) which takes into account only the maximum total weight capacity of each vehicle separately.
What is Unloaded Vehicle Weight (UVW)?
The unloaded vehicle weight, also referred to as "dry weight", is the weight of your travel trailer without any additional cargo. We recommend looking at the GVWR along with the tow capacity, model, and the year that the travel trailer was manufactured before making a decision.
Recommended Readings:
Conclusion
We know that our guide and selection would help you pick the best travel trailers for half-ton trucks.
People's preferences differ a lot, so it is possible that none of the half-ton trucks reviewed would meet your specifications.
There are more travel trailers specially designed for half-ton towable RVs, and you are at liberty to make a choice. Always ensure that you take into consideration the criteria we highlighted above(especially your gross vehicle weight rating) to help you make the best choice.