Published Date: September 8, 2020
Last Updated on June 22, 2023 by Camper Front
Nothing is as sweet as having a travel trailer that you can easily hook up to your vehicle while traveling. However, you don't want to start pulling a trailer that will weigh down your vehicle, which is why you must consider the trailer weight in this case.
For example, if you have a half-ton vehicle or an SUV, then travel trailers that weigh less than 5,000 pounds should be your ideal choice.
These travel trailers are usually bigger than 5th wheel trailers and offer ample space for a small family to sleep comfortably.
In this article, we're going to show you the best travel trailers under 5000 lbs. that will give you every comfort you want from a travel trailer.
Let's get started!
How We Picked The Travel Trailers
Before we get into the list of travel trailers under 5000 lbs., it's crucial you know how we picked each travel trailer on the list. This will enable you to know some of the critical things to look for when shopping for a travel trailer of this range.
The primary thing we considered when making the list is if the trailer actually had a Gross Vehicle Weight Rating (GVWR) of 5000 lbs, apart from dry weight.
The GVWR stands for the maximum weight that a travel trailer should weigh each time when considering all factors, such as:
Passengers
Fluids
Cargo
Optional equipment
GVWR is also known as the Maximum Loaded Trailer Weight, so the two terms are somewhat synonymous.
Additionally, the dry weight of a trailer means how much the trailer weighs with default equipment without the bulleted list above. The figure typically stands for the total weight of the camper when launched by the manufacturer.
The dry weight of a trailer is also known as the Unloaded Vehicle Weight (UVW). Therefore, whenever you see the "UVW" written on a travel trailer, it's referring to the dry weight.
Apart from the GVWR, we also based our criteria on factors like:
Capacity and number of sleeping space
Updated design features
Quality of materials used
Past RVers experiences and reviews
Upgrade options
Overall, we tried to include only quality travel trailers under 5000 lbs. on the list. These are trailers you can conveniently tow with your SUV or half-ton vehicle.
Read Also: Travel Trailers With Outdoor Kitchen and Kitchen Island
Best Travel Trailer Under 5000 lbs
1. Coachmen Clipper Ultra-Lite Travel Trailer
Key features
Weighs around 2509-4608 lbs
Length: 16-21 feet
13 different floor plans
Tinted glass windows
20,000 BTU furnace
If you are looking for a travel trailer you can tow easily; then Clipper Ultra-Lite is the one for you. While not all of its floorplans have the sub-5000 pounds GVWR rating, a lot of them do.
And this provides it with lots of space to keeps it roomy as well as lightweight.check out the Clipper Ultra-Lite 14R and the Clipper Ultra-Lite 16FB.
The Clipper Ultra-Lite has a lot of useful features. It has walnut cabinetry, which gives it a nice look while the residential countertops are laminated, making them spill-resistant and adds to their longevity.
You also have a 13,500 BTU air conditioner and a 20,000 BTU furnace, thus making it a suitable camper for both cold or hot temperatures. Couple that with a variety of upgrades available, and you have a full-fledged yet feather-light travel trailer in your hands.
2. Airstream RV Sport Travel Trailer
Key features
All-electric refrigerator
13,500 BTU heat strips
Weighs 3500 lbs
12,000 BTU furnace
length: 16-22 feets
Has four-floor plan options
Are you ready to start living the Airstream life? If you're not prepared to upsize your tow vehicle just yet, then the Bambi will be ideal for you. The majority of Bambi models you can easily tow using your SUV. In addition, the camper is simple to maneuver and fits perfectly into a tight camping spot at the campgrounds. 
The best part is that you still have a comfortable place you can call home, even on the road. Why? You have all the needed appliances available in the galley kitchen. The appliances are thoughtfully arranged as you would use them at home. You can open the dinette into a lounge space and transform it into an added sleeping place. There is a bathroom to clean up after a long day, and you need not sacrifice your space. 
Every section of the Bambi will meet your needs as the design is carefully thought out. So, get packing and hit the road.
This travel trailer also has a microwave and stove, plus a refrigerator built in that helps to keep items fresh. It has a sink and stove cover top which allows you to extend your prep area on the countertop.
The 22FB floor plan of this travel trailer features a large bathroom that takes up the entire back of the trailer, containing a wooden door and a window. The standalone shower has a built-in seat for comfort. The vanity offers cabinet storage which allows you to have lots of room when getting ready.
3. Escape 17A ultra-lightweight camper trailer
Key features
GVWR: 4000 lbs
12,000 BTU furnace
Tinted windows with screens
A 12-volt demand water system
Two roof vents
This is a lightweight travel trailer that is a perfect crossover from tent camping. IT has a 100% molded fiberglass body made in the two-piece fold.
The Escape 17A comes standard with a very comfortable galley style kitchen with a three cubic foot fridge; it has a permanent bed and four-person dinette, which can also be converted into a sleeping area.
The interior is professionally finished with natural maple or oak cabinetry, relatively large tinted windows, high-grade linoleum flooring, and a unique insulated vinyl headliner/wall covering.
The aerodynamic design of the Escape 17 travel trailer includes a low center of gravity for better road stability and low wind resistance when in tow.
This feature combines with the rubber torsion suspension axle, which helps to reduce vibration while traveling and also provides independent suspension and is maintenance-free.
4. Oliver Legacy Elite Travel Trailer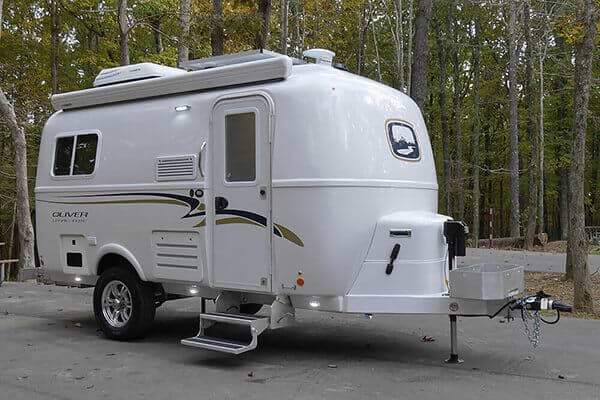 Key features
10-inch retractable awning
A dry weight of 3700 lbs
Length: 18'5 inches
Width: 6'6 inches
Double hulled fiberglass shell
This camper measures 18′ 5″ in length; it has a double-hulled fiberglass shell, which enables it to withstand all the highs and lows of the four seasons.
The Legacy Elite is available in the common floor plan with a 74″ x 52″ bed. It comes with a full bathroom, including a shower, toilet, and vanity. This travel trailer comes with a large rear table area that can accommodate four people; it can also be converted into a 74″ x 52″ bed.
This double-hulled insulated unit comes equipped with thermal pane windows, TV/Stereo, central heat, a full bathroom with a shower, and a lot of storage space, to mention but a few of its features.
You can add a touch of your personal preference by choosing the upholstery fabrics and floor coverings; you can make your own personalized one of a kind Oliver RV.
The Legacy Elite has a standard floor plan and has an outside length of 18′ 5″, width of 6′ 6″, with an approx. dry weight of 3,700 lbs.
5. Airstream Basecamp Travel Trailer
Key features
Four-floor plan
Weight: 3500 lbs
16,000 BTU ducted furnace
Two sleeping capacity
We've talked about an airstream model before, and I can tell you that is travel trailer brand is impressive, a little bit expensive than other brands, but the quality of their vehicles is everything.  This Basecamp travel trailer is no exception to Airstream's exquisite design.
Basecamp has a compact and lightweight design opened up to all sorts of possibilities. It's easily towable with a variety of mid-size SUVs, which means you don't need to make any big changes before you take your trailer for a trip.
Plus, it has an aggressive departure angle, and large wheels help you tackle the wind while driving, and side skirts and wheel flares help prevent damage from gravel and debris.
Read Also: Ultra Light Travel Trailers With Outdoor Kitchens
Two benches and a seat that spans the inside of the rear hatch door provide enough room for five people to lounge, eat, and hang out; while this might not accommodate your whole family, it's great for couples just trying to explore nature.
And when you're ready to get some rest, the benches can be converted into a bed for two that covers the whole back of the trailer.
6. Cricket Camper
Key features
32"╳ 20" window frame
Six large kitchen cabinetry
Length: 16 feet
Weight: 2500 lbs
Width: 6'7
The cricket travel trailer is the perfect blend of sophisticated design and purpose that is towable by many four-cylinder vehicles. With a length of only 16′ and dry weight of 1,732 lbs, allowing you to tow it almost anywhere, in whatever type of vehicle you already drive.
Cricket has a sleeping room for two adults and up to two children; it doesn't come with a bathroom, but it has s beautiful Taxa's NASA-inspired design.
Read Also: PVC Vs TOP RV Roofing
It has a comfortable and secure interior space, integrated plumbing system, and electrical systems, with other thoughtful refined design elements, it's ready for wherever you decide to take it.
This travel trailer has Four swing windows with shades and screens and five mesh windows in the upper tent panels that allow wide-open views and fresh air from every angle. It has a pop-up roof making It the perfect habitat for where the indoors and the outdoors converge.
7. Coachman Clipper 17CBH Travel Trailer
Key features
Weight: 2694 lbs
Length:21'4
12' awning
Width: 88'
Clipper by Coachman is a very excellent travel trailer with amazing features. It is lightweight and is designed with the towing capabilities of different vehicles in mind.
The Clipper 17CBH features 3 beds, including a bunk bed, a half bath, a dinette and sitting area, and a kitchen area. The beds include a queen-sized bed and two single beds in a bunk format.
It also has a half bath that includes a toilet and a stand-up shower with a removable head. The kitchen area has a sink, refrigerator, stovetop, and microwave.
This travel trailer is an excellent choice if you are traveling as a family or a group. It has all the things you need to be comfortable and feel at home while on the road.
Clipper travel trailers are manufactured by the Coachman company, which has been on the American Roads since 1964, where the RV movement was just starting out due to the peace movement and the Vietnam war.
This company has been in the RV market for over fifty years, perfecting their RVs to create the best experience and living space for you.
8. Forest River R-Pod Hood River 179
Key features
13,000 BTU air conditioner
Nine-floor plan
Length:18-20
Weight: 2342-2836 lbs
Tinted safety windows
LP, CO, and smoke detectors
One of the more popular travel trailers is the Forest River R-Pod, which became quite popular among RVers due to its extremely lightweight build.
All of its floorplans are well under 5,000 pounds GVWR, which means you get nine different layouts that span from 18 to 20 feet in length, providing enough room for four people, which is its maximum sleeping capacity.
This is an open floor plan RV that includes a sleeping area, a kitchen, a sitting area, and a dinette. As with most travel trailers, the dining area in the Hood River can be converted into a sleeping space if needed for extra travelers or visitors.
The kitchenette includes a sink, a stovetop with two burners, a refrigerator, and a microwave. The sleeping area consists of a queen bed that can accommodate two. However, The bathroom in this travel trailer is a bit different.
It is a complete wet bathroom, which means everything within this restroom is able to get wet due to the shower being close to everything in a bid to save space.
Advantages Of A Travel Trailer Under 5000 Lbs
As I said earlier, the main benefit that comes with having RV campers under 5000 lbs is that you can easily tow them with smaller vehicles.
In other words, you won't have to spend extra money buying and maintaining a vehicle specifically for camping as you can just tow your RV with your SUV on weekends.
Aside from that, there are also other benefits of buying lightweight travel trailers under 5000 lbs., which we'll discuss below:
Improved Gas Mileage
You will be using less fuel to tow a smaller trailer of this size compared to when you're towing a gigantic fifth wheel or bumper pull would.
This will enable you to save some money for more adventures and buying some of the other necessary things needed for your camping experience.
More Campsite Options
This one is a no-brainer. Most people don't know that the size of a rig can affect their camping adventure in terms of choosing a campsite.
The general rule of thumb is that having a smaller RV will enable you to have more options in terms of campsites. There are lots of national parks out there that only offer very short campsites, making it impossible for larger RVs to squeeze in.
That's not all; a smaller rig will also make it easier to find places to park in any parking lots along your route.
Cost-Effective
Aside from the money, you'll be spending on gas, buying a smaller RV will also help you to save a few bucks when it comes to the overall purchase cost.
Generally, RV campers under 5000 pounds will usually be more pocket friendly than the bigger homes-on-wheels on the market.
That said, other benefits of travel trailers under 5000 lbs. include:
Not as costly of an investment upfront
Enjoy the freedom of the road and live in one full-time
Easier to drive and maneuver
More off-road capabilities
The opportunity of becoming minimalists
Many of the benefits of owning a camper trailer overlap with the advantages of living in an RV or bigger trailer. Size is the only major difference.
Important Travel Trailer Weight Terms
When scouting for a travel trailer, there are some terms you may come across with which may be confusing. Understanding these weight terms will make your search easier and less confusing.
Gross Vehicle Weight Rating (GVWR) – This is the maximum weight of the vehicle or trailer when fully loaded for travel. This includes the unloaded vehicle weight, extra equipment or accessories, cargo, passengers, liquids. The tow vehicle and trailer each have their own GVWR.
Unloaded Vehicle Weight (UVW): This is the dry weight of the camper with no gear, no fluids, and no additional items. This is the exact structure weight before it's prepped to hit the road.
Dry Weight: Dry Weight is like Curb Weight, except all of the camper's consumables such as washer fluid, oil, fuel, coolant, etc. are not added in the calculation.
Cargo Carrying Capacity (CCC): This is the highest amount of weight your cargo and gear should amount to. Your items can be weighed separately before loading, to carefully keep track of your cargo's weight.
Gross Combined Weight Rating (GCWR): The GCWR is the total weight of absolutely everything. When you total the vehicle, everything inside the vehicle, the towing apparatus, the gears, and the trailer, it should be less than this number.
Recommended Readings:
Conclusion
Well, there are tons of best travel trailers under 5000 lbs that sometimes the search can be overwhelming, so this article has helped to narrow down the choices to seven of the best.
Remember, your budget plays a leading role in the purchase of any vehicle, so determine your preference and make the best-suited choice.